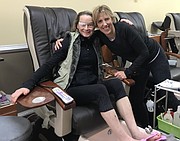 "I was dealt a blow and plan to take it one step at a time." —Brooke Sydnor Curran on running her third Marine Corps Marathon.
Brooke Sydnor Curran has run hundreds of marathons. It's how the founder of the nonprofit RunningBrooke has raised more than a million dollars for numerous Alexandria children's charities. But Sunday's Marine Corps Marathon will be different. When Curran lines up with 30,000 other runners Oct. 28, it will be her first competitive race since suffering a brain aneurysm that nearly ended her life earlier this year.
"I honestly don't remember a lot," said Curran, who was out on a normal run when she experienced an excruciating headache and profuse vomiting the morning of March 17. "It was the worst pain of my life and in hindsight I did everything wrong after I collapsed."
Between bouts of nausea, Curran convinced her husband Chris that she just needed to sleep for a few hours.
"That is the last thing someone experiencing those symptoms should do," Curran said.
When the pain and vomiting continued into the evening, Curran's husband took her to Inova Alexandria Hospital, where an aneurysm was diagnosed via CT scan. She was immediately rushed to Inova Fairfax Hospital in a high-urgency ambulance.
Due to heavy bleeding on her brain, it took doctors nearly a week to locate the aneurysm. Unable to close the aneurysm with the less invasive angiogram procedure, doctors scheduled a craniotomy, which was successfully performed on March 26.
"I don't remember any of this," Curran said. "Chris is the one who has to fill me in on the details of what happened in the hospital."
Curran was moved out of the Intensive Care Unit on March 31 and was able to return home in early April.
"Three months of my life were just erased," said Curran, who still has memory gaps from about a month before the incident through her time in the hospital. "My memory got zapped from before the aneurysm but I am slowly coming out of the fog and rebuilding those memories."
Curran began physical therapy in April and slowly returned to running in May. With the blessing of her neurosurgeon, she will line up Sunday morning for her third Marine Corps Marathon.
"I'm excited and nervous at the same time," Curran said. "I don't know how it will feel to cross the finish line. It's something I used to take for granted but life is fragile and I am incredibly appreciative now to be able to do something like that."
Curran, whose best marathon time is 3 hours and nine minutes, would normally hope to finish the race in under four hours. But this year her attitude is different.
"I'm not sure I care about my time as much," she said. "I want to feel good and run a smart race. I was dealt a blow and plan to take it one step at a time."
Curran, who turned 50 in April, was quick to point out that the aneurysm was not a result of her running.
"This could happen to anybody," Curran said. "It wasn't caused because I was running – that's important for people to know. Doctors told me one of the reasons I am able to run this weekend and survived in the first place is because I had my physical health in order. The fact I'm even alive is because going in I was in top health. Otherwise I would have been a goner."
Curran credits running for making her happier, healthier and a better mother to her three daughters.
"Running is often not about the legs," she said. "It gives you mental clarity, strength and a 'can do' attitude."
Curran founded the nonprofit RunningBrooke in 2009 to help get children to participate in outdoor activities.
"It's all about getting kids physically active," Curran said. "Kids who are more active are far more successful in school and in life."
Since founding RunningBrooke, Curran has raised more than $1.5 million. Funds have been used to build community playgrounds in underserved neighborhoods and for grants to nonprofit organizations that serve children both in the classroom and in extracurricular programs.
"I want to be sure kids can afford to participate in programs that keep them active," Curran said. "I want RunningBrooke to continue to grow and make more of a difference in the community."
Curran said her husband and daughters are supportive of her decision to run competitively so soon after her life nearly ended in March.
"My family is not surprised that I would go right back at it," Curran said. "They are proud and supportive and though it sounds trite, I truly have a new appreciation for life. The bonds with people and organizations that I have formed are so much more precious to me. I don't take a single breath for granted."
See www.RunningBrooke.org.