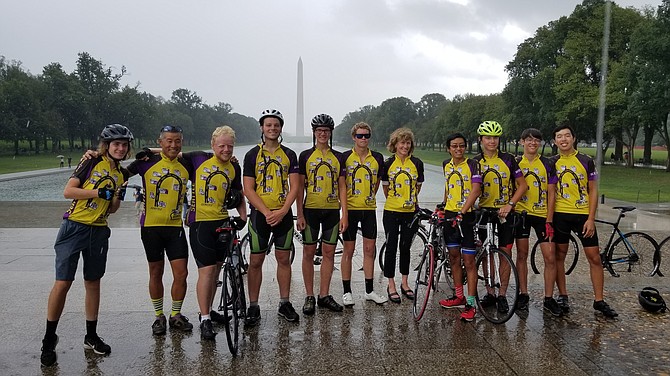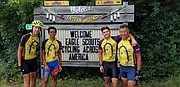 James Ye and William Nowak would have no trouble filling a dozen notebooks with their summer adventures.
The two Troop 55 Eagle Scouts from Great Falls decided to accept a mega challenge – ride across the country from Washington State starting in June of 2018, arriving back home to the Washington, D.C. area in August as part of the "Eagle Scouts Cycling Across America" journey, organized by Scout Master Bruce White, who's been leading his Fredericksburg troop for 18 years.
The message for Eagle Scouts Cycling Across America, according to White, is about "personal fitness and spreading the core values of the scouting program."
In addition to developing the itinerary and handling the logistics of the trip along with his wife Vikki and sons Cory and Ian, White also did the promotion of the event, and the interviews.
"I wanted to be sure that the scout riders knew what they were getting into and were ready to make this major commitment," acknowledged White. "It is a challenge everyone can learn and gain from, but they need to be fully informed and ready."
NOWAK AND YE admitted that prior to this ride they "weren't really cyclists." Not to worry. Their Scout Leader, Gary Pan, who had done quite a bit of cycling in earlier years, was ready to help them train and prepare for the task ahead.
Always willing to lead by example, Pan also signed on to ride the roads with his scouts, including his son Wesley, who's always up for Eagle Scout action even though he is now a pre-med student at Virginia Tech.
"Wesley is an assistant scout leader at Jamboree. His help was invaluable on the ESCAA," said his proud dad. "He made a lot happen."
Ye, a 15-year-old sophomore at Thomas Jefferson High School, and Nowak, also 15 and now a sophomore at Langley High School, trained faithfully for 45 minutes a day on indoor bikes, then gradually hit the roads for longer and longer rides, until they were able to do the 100-mile "century" runs.
"That first century took us 11 hours to complete, but we made it," said Nowak.
From their starting point on June 17, when they dipped their rear wheels into the Pacific Ocean at Alki Beach Park in Seattle, the riders – about 10 Eagle Scouts and a fluctuating group of 26 or so adult "scouters" and "Scout friends" formed teams of five. While there was always at least one adult in each team, it was the young "Senior Patrol Leader" designated for each state along the route, who took charge and made sure things went according to plan.
The senior patrol leader and the scouts did the cooking, oversaw the set up at each campsite or alternative lodging, assured that the next day's gear was in order, and ran the meetings to keep everyone up to speed on the route and the rules for each stage.
The scouts also helped keep their teams on target, assuring that no one missed a rendezvous point.
"It wasn't all straight road riding," said Pan. The group often took detours or included "add-ons" to the ride. Pan was particularly impressed at how the scouts and their teams navigated their ways through New York City, all arriving on schedule at the ferry station for their crossing into New Jersey. "They are an amazing bunch."
"I really don't know how they kept going," marvelled White. Some days when the official itinerary could have seen the group break for the day as early as 3 p.m., someone would decide to add miles more to the day's stage, cycling off to catch a local event or visit a "can't-be-missed" site or landmark.
"We ate a lot," was Ye's answer.
"Yes, we ate some food, indeed," said White, who admitted that there was at least one buffet stop when he was concerned that they might be asked to leave after a third trip to the offerings.
Boy Scout campgrounds provided much of the accommodation along the trail. At several of the stops, there was additional entertainment, meeting with local scouts, and on one special occasion, listening to motivational speaker and scouting legend Terry Fossum.
ALONG THE WAY, the route offered the pedal-powered travellers journal-worthy experiences like the tour of the Coulee Dam, a ride past the Devil's Tower in Wyoming (with 30 mph winds to make things more interesting), Mount Rushmore and a plethora of parks and wildlife.
The 4000-plus miles weren't always a smooth ride.
"We had hail and sleet at Mount Rushmore," said William Nowak. "We had to carry our bikes over flooded roads in Pennsylvania," noted James Ye, and spending 67 consecutive and physically demanding days with people you may have only met at the start of the journey, could sometimes fray a nerve or two, but "everyone worked through everything like a real team," declared Pan.
Nowak and Ye both felt that "actually the second day was the hardest." Just getting used to the experience, facing thousands of miles before arriving home and back to family, "and it was really steep. A serious climb," said Nowak.
"It was a real test," added Ye.
In the long run, was it worth it, pushing yourselves to the limit and spending summer away from family and friends and the typical summer fun?
"Absolutely!" both scouts affirmed, saying that they are still processing the many adventures they had and the friendly people they met along the way.
Ye found that the physicality of the adventure could be met with the employment of the Scout's motto to "Be Prepared," but it was "a huge confidence boost."
"It was the mental aspect of really accomplishing this that I wasn't so sure of until I did it," said Nowak. "Now I feel confident and ready for any challenge, and I think anyone can do this if they try and they train."
They are glad to have all the photos taken along the way, saying they will probably have to prove to their friends that "we really did it!"
After a bit of rest, and getting the new school year off to a good start, Nowak and Ye are eyeing some cycling races in the future, and they certainly now have the experience to give the others a run for their money.