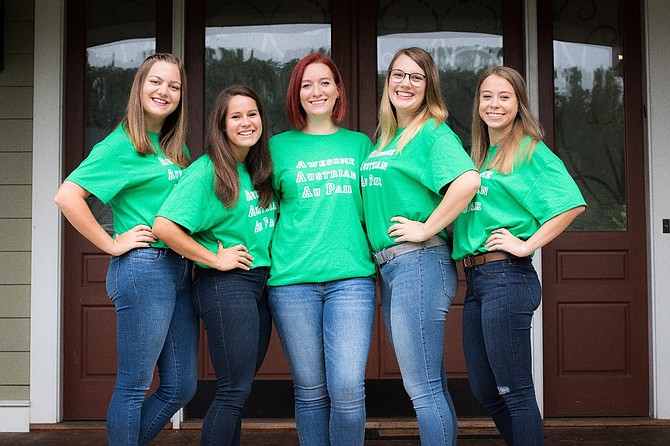 McLean — The au pair phenomenon has hit the Hodge family in McLean this summer, where they had an au pair reunion of five past au pairs they've hosted,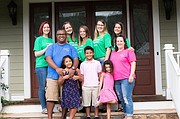 immersing the family in the Austrian culture like they've never experienced before.
Starting in July, a new au pair, Lena Wimberger, 19, came over to replace the previous au pair, and the other four came to stay for nearly a month making it a summer to remember for the Hodges.
"We've had such a positive experience," said Gillian Hodges, "for us they totally have become part of our family." In addition to Wimberger, the group included Anna Pointner, Kerstin Hartl, Kathi Gahleitner and Anika Schuster, all au pairs from Austria that worked at the Hodge's in the past few years through the au pair company Cultural Care Au Pair. During their stay this summer, they all hung out, went to the pool, ordered pizzas, went on a night bike ride in Washington, D.C. and just did regular activities that screamed American. "We try to introduce them to the American culture," Hodges said.
WIMBERGER is the au pair that's staying for the next year, and she arrived July 9. "I wanted to see the U.S." she said, and from what she's seen through the media, the country has been pretty much what she expected. Although she's never experienced child care to this extent, "I have a lot of fun with the kids and family, so it's not tough for me," she said. Before coming over, Wimberger talked her best friend into it, and it worked out for the best. "My best friend Jana came here and she lives next door," she said. The family next door is the brother of Gillian Hodge, so there is a close family connection.
Gillian was first exposed to the au pair culture as a child when she was cared for by an au pair from the Netherlands. She now teaches at a nearby country school and works part-time at Culture Care helping other families with their au pair experience. Her husband Yuctan works in finance, and sees it as a positive experience all around, financially and culturally.
It's been such a good experience, the Hodge family is travelling to Austria next year to be in the wedding of a former au pair Anika Schuster.
"The kids will be in the wedding, both our girls will be flower girls and our son will be the ring bearer even though he will be a little older," said Gillian Hodges.
The au pairs typically benefit from the experience too. After the stay in the U.S., the au pairs return to their home countries and many are sought after in careers that require fluency in English, according to the Culture Care representative Skye McIvor.
THE PROGRAM has provided childcare to more than 130,000 families around the country, and is designed to give young people an opportunity to experience the U.S., McIvor said. Au pairs, who are young adults (both women and men) between the ages of 18-26, can live in the country for up to two years on a J-1 visa, she said.
"Our au pairs come from over 20 different countries - Germany, Brazil, Italy, Austria, Thailand, South Africa, France, and Sweden are just a sampling," she said.
Annually, an au pair from Cultural Care Au Pair costs the host family $19,053.25, and a portion of that is paid to the au pair in cash every week, according to company information on the website.
This is comparable to structured childcare for more than one child, said Yuctan Hodge. "I'm a big fan of the cultural exchange."
More like this story