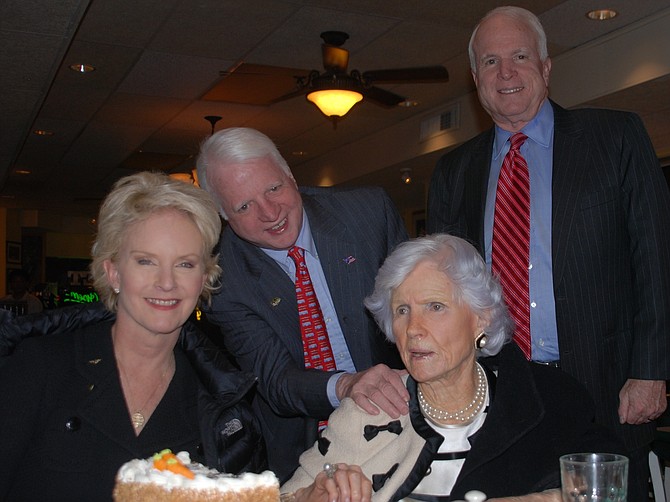 "I have many happy memories of being here. And a few that I'm sure former teachers, school administrators and I would rather forget." — John McCain in a 2008 address at Episcopal High School.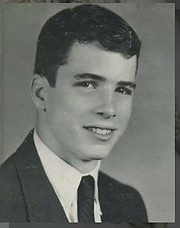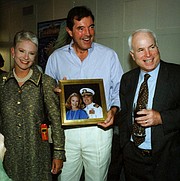 Philip Bermingham was a new business owner in 1980 when a young Naval aviator and his soon-to-be bride walked into his photography studio on South Washington Street in Alexandria. The couple, at the time residents of Wolfe Street, wanted a formal wedding portrait taken. Thus began a friendship between Bermingham and John McCain, who would go on to become one of the nation's most respected political leaders.
"John was a Congressional liaison at the time," recalled Bermingham. "But he told me that he was retiring from the military to run for Congress. I told him to call me if he won and he did. I did the McCain's Christmas card photos every year for several years after that. They were a lovely couple and always wonderful to work with."
McCain was no stranger to Alexandria. He was a 1954 graduate of Episcopal High School, where he developed a reputation as a bit of a rebel.
"I have many happy memories of being here," McCain said during a 2008 address to the school. "And a few that I'm sure former teachers, school administrators and I would rather forget."
While at EHS, McCain played football and tennis and was on the wrestling team. The self-described "mediocre" athlete would go on to greater glory in the political arena after surviving more than five years as a POW during the Vietnam War. On Aug. 25, the two-time presidential candidate died due to complications from a brain tumor. He was 81.
"It was heartbreaking to get the news of John's passing," Bermingham said. "All his compatriots and anyone who knew him will tell you that he was a stand up guy."
John Sidney McCain III was born Aug. 29, 1936 to John Sidney McCain Jr. and Roberta McCain. Both his father and paternal grandfather were graduates of the U.S. Naval Academy. McCain followed in those footsteps, graduating from the academy in 1958. He completed flight training in 1960 and served as a fighter pilot aboard the USS Forrestal.
In October of 1967, McCain was taken as a prisoner of war when his A-4E Skyhawk was shot down by a missile over Hanoi. He survived more than five years of torture, much of that in the brutal prison known as the Hanoi Hilton, before being released on March 14, 1973.
McCain returned to Alexandria often, settling in Old Town with his future wife Cindy as he prepared for a career in politics.
"I knew he had some difficulties when he returned from Vietnam," Birmingham recalled. "But all my interactions with him were wonderful and Cindy was always especially gracious."
In 1977, McCain served as the Navy liaison to the U.S. Senate. Following his military retirement in 1981, he moved to Arizona, Cindy's home state, and was elected to Congress in 1982. He was elected to the U.S. Senate in 1986, serving six terms before his death. He twice ran for President, losing the Republican primary to George W. Bush in 2000, and to Barack Obama in the 2008 presidential election.
His days as a rebel at EHS followed him into politics, where he earned the nickname "maverick" for his outspoken positions that sometimes broke rank with his fellow Republicans.
Survivors include his wife Cindy; daughters Sidney, Meghan and Bridget; sons Jimmy, John IV (Jack), Doug and Andy, and several grandchildren. McCain's younger brother, Joe McCain, still resides in Old Town, and his 106-year-old mother Roberta lives in Washington, D.C. His first marriage to Carol Schepp McCain ended in divorce.
McCain will lie in state in the Rotunda at the U.S. Capitol on Aug. 31 with a celebration of life service Sept. 1 at 11 a.m. at the Washington National Cathedral. A private memorial service will be held the following day at the U.S. Naval Academy in Annapolis, where McCain will be buried next to his Naval Academy classmate and lifelong friend Admiral Charles R. Larson.
McCain returned to Alexandria on several occasions, receiving the EHS Distinguished Alumnus Award in 1987 and the Philips Integrity in Action Award in 2001. He often cited the impact of the school's honor code, telling the student body in 2008 that "My exposure to the Honor Code has guided me throughout my life."
"John McCain had a quality about him that I greatly admired and respected," Birmingham said. "I was fortunate to know him through so many of his life's milestones — the celebration of his marriage to Cindy, his retirement from the Navy and his life of public service. It was an honor to work with him and all my interactions with him will be treasured."