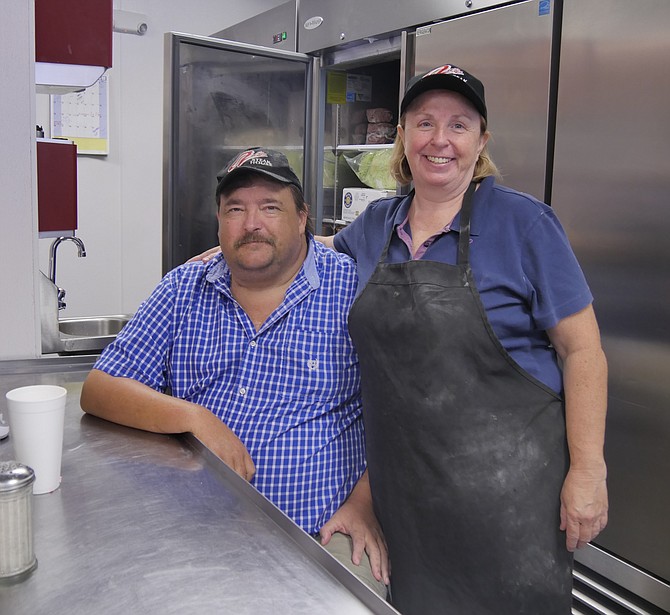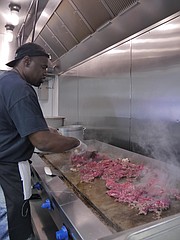 Eight rib eye steaks smothered in provolone cheese sit side by side on the grill at Al's Steak House in Del Ray. Chef Mark Williams says, "We cut the ribeye fresh every day from an 8-10 pound chunk of meat." They order twice a week, a total of about 200 pounds. And 200 mixed rolls a day, 400 on a busy day.
Williams is currently filling an order for eight Romas, the most popular Philly (or hot sub). He piles on rib eye with provolone, grilled onions, lettuce and tomato and spreads mayo on a 12-inch sub roll. Earlier he had sautéed a large portion of rib eye. "It is sliced real thin. We don't chop it, just slice it so it cooks up real well." He works around the meat on the grill for 10-15 minutes and adds the special seasoning.
Jim Breeding says, "We make the steak seasoning in-house. and people have been trying to duplicate it for years. It makes everything you put it on very tasty. I am the owner of Al's, sort of. My daughter is actually the owner. She is in med school. I am the kitchen help."
His wife, Dorothy, is the manager, taking orders and making all of the desserts. Dorothy Breeding interjects, "Pecan pie and sweet potato pie are the favorites."
Jim Breeding says they bought the restaurant in 2015. The restaurant was originally opened by Al Martino in 1955. Jim Breeding says, "We grew up in Del Ray and have been coming here since we were little."
Dorothy Breeding adds that now they run into people all the time who tell them stories about Al's. "One man we just met at the Arlington County Fair said his parents met 50 years ago at Al's. Another woman had a similar story. I didn't know Al's had such a relationship history."
But the day they opened, a fire broke out behind the grill and four hours later the restaurant had burned down. Dorothy Breeding says, "We were closed for a year, but Del Ray really came together to support us. They raised $20,000 to help us rebuild."
Williams has just moved from the breakfast crowd into the lunch bunch. "The most popular breakfast item is the bacon, egg and cheese on a homemade buttermilk biscuit."
Jim Breeding says, "We put on six pieces of bacon. It is called the Cathead because the biscuits are the size of a catfish." Another favorite is the corn beef hash with their Hobe sauce, "mayo based, our version of hollandaise."
Jim Breeding says, "Sue in the back makes the barbecue and the chili and house-made half smokes." They are pork spiced with seasonings like garlic, salt and pepper, onion powder, according to Dorothy Breeding, and then smoked at a low temperature for 3-4 hours in the smoker in the back. The half smokes come with raw onions, mustard and home made chili made with rib eye, no beans.
Sue also makes the cheese balls. Williams says that at one time everybody had to get them. But then they couldn't find them anymore. So now Williams deep fries homemade cheese balls with chunks of American cheese coated with a light crust. "They have a little bit of spice at the end." He piles them into a white paper dish.
Williams received his degree at Johnson & Wales culinary school in Charlotte, N.C. He says he has had a dream of being a cook since he was 11 years old watching his mother cook big dinners every Sunday. She would have a pasta and soul food like fried chicken, mashed potatoes, sweet potatoes, chicken and dumplings. "I would tell her I wanted to be a chef someday."