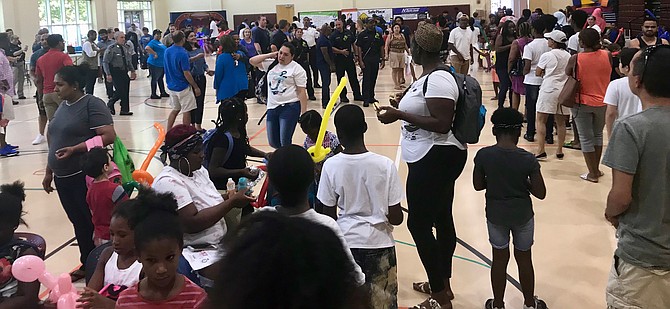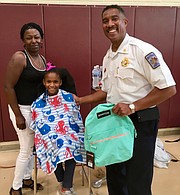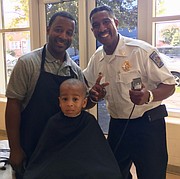 More than 800 families enjoyed activities and received back-to-school supplies at a nonprofit-sponsored community event in Old Town on Sunday, Aug. 26.
Firefighters & Friends to the Rescue hosted the annual event, the eighth of its kind, at the Charles Houston Rec Center. Fairfax County Fire Battalion Chief and Alexandria City Councilman Will Bailey founded the organization in 1998 to help struggling families during Christmastime. The group now pursues initiatives throughout the year, including winter coat distribution, holiday gift drives, and a summer reading program, in addition to back-to-school events like this one.
On Sunday, children received backpacks filled with school supplies, played with balloon animals, and took pictures with Minnie Mouse. They also listened to music, ate snacks, checked out fire and police vehicles on display, and received haircuts donated by local barbers. All told, youths received 450 backpacks 110 haircuts.
"It's simple, this city has done so much for me and my family that I am just returning the favor or, as they say, paying it forward," said Bailey. "I also enjoy bringing people and organizations together for the greater good. And today it was preparing hundreds of kids for the upcoming school year. They look good, they feel good, and now they will return to school and do good." His favorite part of the event was "watching the kids enjoy themselves and watching the volunteers bond over a shared passion. Obviously, we are trying to help the kids and families prepare for the upcoming school year but we also wanted to ensure along the way that they had fun."
Deputy City Manager Debra Collins, who participated in the event as a volunteer said the event brought together many and diverse families.
"It's a amazing to see kids smiling, having fun, and getting everything they need to go back to school. Events like this are why I love living and serving in our close-knit community in Alexandria," said Michelle Millben, a business owner, minister, and soon-to-be seminary student.
Partnering organizations included the city's fire, police, and sheriff's, and recreation departments; the Charles Housing Advisory Board; and Apple Federal Credit Union.
For more information, visit www.ffandfriends2therescue.org.