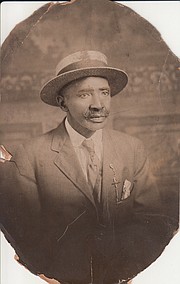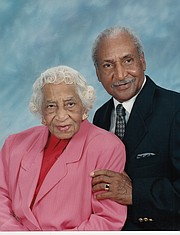 No one is more proud of his family heritage than Mr. Howard Dishman, Sr., whose great-grandfather, Richard W. Bentley, achieved a great deal in the 19th and 20th centuries.
During the Civil War, Richard W. Bentley's family migrated to Alexandria. At the end of the Civil War, Richard contracted himself as a farm laborer to Henry and Amanda Brown in West Bloomfield, Ontario, N.Y. Many former slaves contracted themselves out for work during and shortly after the Civil War. For Richard, he was only 15 years old when the Civil War ended. After his contract ended in New York, he came back to Alexandria.
At a young age, Mr. Bentley knew what he wanted to accomplish. He returned to Alexandria in 1870 where he obtained a job with the railroad as a porter. With money from his job as a farm laborer and railroad porter, he bought two properties on North Patrick Street. He was a multi-talented person and a businessman. In his early life, each job he held prepared him for his lifetime goal of owning a business and managing his properties. In his lifetime he was a farm laborer, hotel waiter, porter, carpenter, store owner (coal and wood), grocery store owner, merchant, property owner and a builder. He built both his houses at 313 and 315 North Patrick Street. The original house structures were built of railroad boards from the railroad. Over several decades, these houses were renovated to meet current standards. Some of Mr. Bentley's children also became entrepreneurs. Their businesses were broom-making, tanning, barber shops and embalming.
In 1850, Richard W. Bentley was born in Middleburg, Loudoun, Va. to William and Fannie Bentley. Prior to marrying Susan Craig on June 24, 1875 in Alexandria, he had purchased his land on North Patrick Street. Richard and Sarah raised 10 children at 315 North Patrick St., they were Laura, Lula, Raymond, William, Nettie, Mabel, Cora, Morrison, Frederick and Lewis. Richard provided a middle-class life for his family. His sons attended Snowden School for boys and his daughters attended Hallowell School for girls. The boys worked in their father's business before they had their own careers. Richard also provided his newlywed children residence in his 313 and 315 North Patrick Street properties. He was also one of the few Alexandria African Americans who had a car in the early 1900s. The last vehicle he owned was a 1923 Buick, Model 23-47 Sedan, 60 HP, 6 cylinder engine, which was a five-passenger-seat car. Mr. Bentley has three grandchildren living, Dorothea, Teresa and Frankie. He has many great-grandchildren including Lynnwood Campbell and Howard Dishman, Sr. Mr. Dishman inherited his great-grandfather's properties. These properties have been in the family for over 140-years. The property on 313 North Patrick St. was recently sold. With the help of Mr. Dishman, Sr., and by using primary source documents, Richard's story came to light.
On May 2, 1919, Richard's beloved wife, Susan Craig Bentley died. Richard lived for another 20 years. Based on his death certificate, he died on April 18, 1939 from a "diseased heart" at the age of 89. Mr. Bentley's descendants inherited his longevity; his daughter, Cora Bentley-Howard Banks lived to be 104; his grand-daughter, Inez Howard-Dishman, lived to be 96; and his great-grandson, Howard Dishman, Sr., just celebrated his 87th birthday.
Richard W. Bentley worked hard to achieve his goals in life, and Howard is proud of his great-grandfather's achievements. Howard Dishman, Sr., thanks his "Poppa" for leaving his family a great legacy.
Char McCargo Bah is a freelance writer, independent historian, genealogist and a Living Legend of Alexandria. You can visit her blog at http://www.theotheralexandria.com for more about "The Other Alexandria."