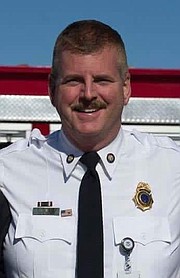 Jim Seavey once said he started chasing fire trucks when he was 3 years old.
Later, he said, his nursery school class visited a D.C. fire department and he saw a firefighter slide down the pole to the floor below.
"I told my teacher, 'when I grow up, I'm going to be a D.C. fireman,'" he said.
And that is just what he did, but not all.
Seavey served as a D.C. firefighter and was also a volunteer with the Glen Echo Fire Department before moving to the Cabin John Park Volunteer Fire Department where, among other positions, he served as chief.
Seavey died in the early morning of Tuesday, Sept. 4.
CJPVFD announced his death on its Facebook page with the following notice: "We are deeply saddened to learn that early this morning, Chief James P. Seavey Sr. passed away surrounded by his family and loved ones. More updates and information regarding his memorial service are to come. Rest in Peace, Chief Seavey."
On Aug. 28 this information was posted on the website of the Retired Firefighter's Association of Washington, D.C.: "On Behalf of the Seavey Family, we inform you that Captain James 'Jim' Seavey has recently been placed in hospice care. Captain Seavey is resting comfortably at his home among his family and closest friends. Currently there is no accurate prognosis; however Captain Seavey is alert and able to communicate."