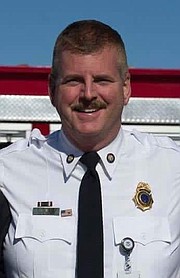 James Perrine Seavey, Sr., long-time fire chief of Cabin John Park Volunteer Fire Department, which serves much of the Potomac-Bethesda area, will be honored at a memorial service at 10 a.m. Friday, Sept. 14 at Washington National Cathedral, 3101 Wisconsin Ave. N.W., Washington D.C.
A reception will follow the service at Bethesda North Marriott Hotel and Conference Center, 5701 Marinelli Road, Rockville.
Seavey's family asks that fire and rescue personnel attend the memorial service in dress uniform, in recognition of Seavey's many years of service in Montgomery County and Washington, D.C.
Seavey was born April 12, 1960 in Washington D.C. and grew up in Bethesda.
According to information on the CJPVFD website Seavey was a first responder in the greater D.C. area for 42 years, starting as a 16-year-old Walt Whitman High School volunteer at Glen Echo Fire Department in 1976. He rose to the rank of assistant chief before moving to the Cabin John Park Volunteer Fire Department and took office as fire chief Jan. 1, 1992. He held the post until retiring Dec. 31, 2017.
He was also a career firefighter with the D.C. Fire and EMS Department for 30 years, rising to the rank of captain. For many years he was the officer of E16, the fire engine dubbed the Midnight Express at the station that has the White House as "first due," meaning that its firefighters are tasked with being the first at the scene. Seavey retired from the D.C. Fire Department in January 2016.
Seavey, according to the website, was always looking for ideas and strategies to enhance the operation of CJPVFD, many of which have been woven into the culture of the department. His "fireside chats" with new probationary members were legendary. He would talk about his history with the fire service and how it set him in the right direction for life. He inspired many young men and women to volunteer or seek a career in the fire service.
"Seavey's interests and influence reached far beyond the D.C. area. A recent example: He researched and co-authored the Lavender Ribbon Report: Best Practices for Preventing Firefighter Cancer, published just last month by the International Association of Fire Chiefs, where until his death Chief Seavey was on the board of the Volunteer and Combination Officers Section. The report sets out 11 actions that can dramatically reduce cancer cases caused by fighting fires," the website information said.
Seavey died Sept. 4 after living four years with Non-Hodgkin's Lymphoma. He is survived by his wife Mary and son James P. Seavey, Jr.
A Catholic Mass and celebration of Seavey's life will be held at 11 a.m. Saturday, Sept. 15 at St. Ignatius of Loyola, 4103 Price's Distillery Road, Ijamsville.