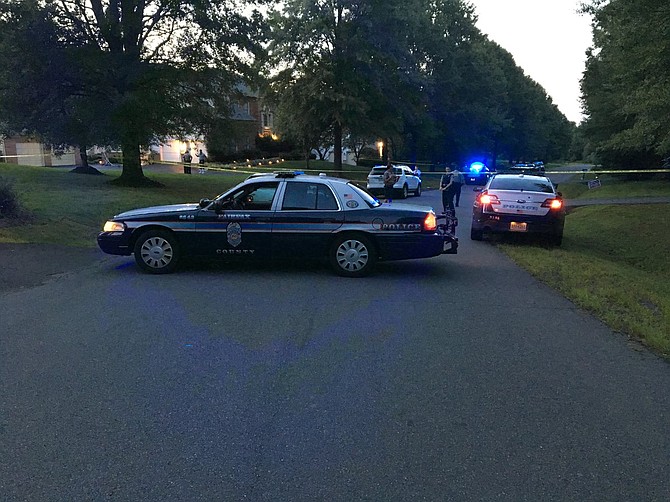 Fairfax County Major Crimes detectives continue their investigation in what is an apparent double murder-suicide after a woman and two young boys were found deceased in their home in the 1000 block of Safat Court in Herndon Sept. 5.
Police report they received a 9-1-1 call from the home around 6:20 p.m. after the homeowner, later identified as the woman's husband, found his sons' bodies on the ground floor of the home.
Officers responded, and when they searched the home, they discovered a 42-year-old woman upstairs with what appeared to be a self-inflicted gunshot wound, Fairfax County police said in a news release. "Our initial investigation indicates the woman shot the two juveniles before shooting herself," said Lt. Eli Corey with the Fairfax County police. Police obtained a search warrant that evening, and crime scene detectives gathered evidence.
Although police could not release the identity of the children due to a recently enacted law prohibiting them from doing so, the woman's brother, Yasir Ayaz, of Plano, Texas identified the woman as Noera Ayaz. A memorial fund commemorating the Ayaz and Maqsood family's legacy is established on the All Dulles Area Muslim Society (ADAMS) Facebook page. The site identifies Ayaz' sons as Tihami and Miraaj.
WTOP reports Ayaz said that his family is devastated by what happened and that they saw nothing that would lead them to think something like this could happen.

A graduate of Brown University's Mechanical Engineering Department, Ayaz received her Doctor of Law degree from the Columbia Law School. She reportedly often represented Muslim women with immigration issues. She also actively served the American Muslim community for the last two decades. As the director of Woman in Islam, Ayaz worked to empower Muslim women and enhance their inclusion in society, reported the Daily Sabah, stating in 2016, "As an attorney, she has represented Muslim women who were victims of abuse, providing pro bono legal counsel and helping them obtain legal immigration status. Ayaz was awarded the Sanctuary for Families Award for Excellence in Pro Bono Advocacy for her work with abuse victims."
The Office of the Chief Medical examiner will conduct an autopsy to determine the cause and manner of death, police said. Detectives continue their investigation to determine what led to the shooting.