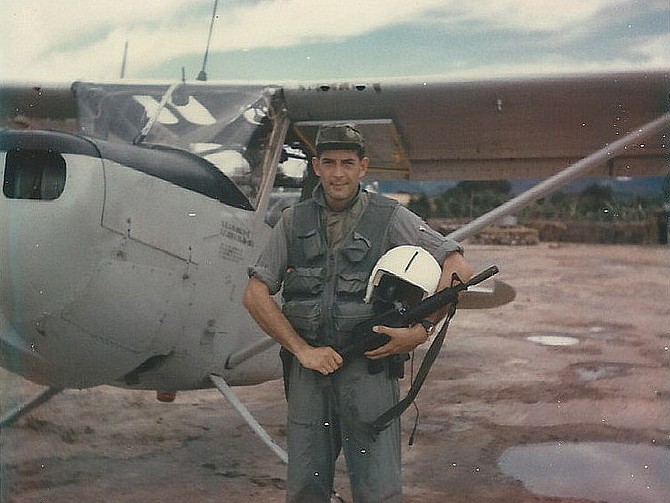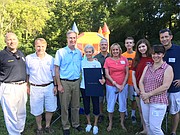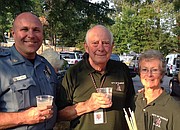 "Growing up to be a commercial-airline pilot, myself, I read a lot about aviation history and heroes – and I can honestly say my dad is my biggest hero." —John Potock
When people die, they're always remembered by their loved ones. But a year after his death, longtime Fairfax City resident Walt Potock was officially honored by his community and the Commonwealth of Virginia.
It happened Sept. 2 at the Old Lee Hills Civic Assn.'s annual Labor Day picnic at the Country Club Hills pool grounds. Attendees included friends, family members, local dignitaries and Del. David Bulova (D-37).
"The things that make our country and community great are our unsung heroes – our military personnel, law enforcement and volunteers," said Bulova. "I knew Walt for 10 or 15 years; and I remember, there weren't many places I could go without seeing Walt or [his wife] Charlie and their love for their local community and their friends."
But before moving here, Potock had a distinguished career in the Air Force, retiring as a lieutenant colonel. He died Aug. 21, 2017, at age 83, with his wife and sons Steve and John at his side and was buried at Arlington National Cemetery.
Besides his family, Bulova said Potock also loved the City of Fairfax Police Department and "made sure I voted the right way on law-enforcement issues." Then, explaining that he wanted Potock recognized for the totality of his life's work, Bulova presented Charlie with a resolution from the Virginia General Assembly doing just that.
THE DOCUMENT noted that Potock learned the value of hard work and responsibility growing up on his family's farm in Ohio. He worked for a railroad before joining the Air Force in 1954. And while stationed in Japan, he participated in numerous water rescues involving mariners and downed airmen. He later flew radar missions over the Atlantic Ocean. He and Charlie were married in 1961.
Potock also served in Vietnam as a forward air controller, flying "dangerous, low-altitude, reconnaissance and target-identification missions." For one such mission, he received the Silver Star for "gallantry in support of friendly troops on the ground." It was among his many military awards, including the Distinguished Flying Cross and the Air Medal.
Returning to the U.S., he was stationed at air bases in Florida and Maryland before retiring. Settling in Fairfax, he coached youth sports and was a member of American Legion Post 177. Both he and Charlie volunteered in the City of Fairfax Police Department's VIPS (Volunteers in Police Service) program and served on the Chief's Advisory Council. They also served on the Fairfax Independence Day Celebration Committee, helping organize the 4th of July parade and other special events.
The resolution concluded with the General Assembly acknowledging Potock's death, respecting his memory and being thankful for his life. Bulova was its House of Delegates patron and Sen. Chap Petersen (D-34) was the Senate patron.
After receiving it, with her sons and their families beside her, Charlie said, "I'm just very humbled, and Walt would be humbled and proud. He was always low-key; he didn't tell many people he had a Silver Star. He was a listener, but also a hero, and a hero in our eyes."
"He was a wonderful man – he was tall and handsome and flew airplanes," she continued. "That's what I fell in love with. But he was also thoughtful and kind. My dad died when I was young, and Walt was so nice to my mom. I think he loved her even before he loved me."
Pleased to be attending the presentation ceremony, Fairfax City Mayor David Meyer called Walt Potock "the finest example of leadership a community could ever have. We're very thankful for his presence among us."
Also there was City Police Chief Carl Pardiny. "After graduating from the Citizens Police Academy in 2007, Walt and Charlie volunteered with the Police Department," said Pardiny. "I was the captain in charge of Professional Standards, and Charlie volunteered as my administrative assistant. Walt worked with our Traffic Services section, running the speed trailer and scheduling the placement of the decoy car." After Potock died, Pardiny had the speed trailer's message read, "Godspeed Walt" in his honor.
"He was a hero to all of us, particularly in the Police Department," said Pardiny. "To have a man of his stature and experience working in a volunteer capacity demonstrated his passion for service and his commitment to public safety at the local level. It was a pleasure and an honor to work with him, to have him on our team and to know him personally. Really, he was just an inspiration to me and to so many of the police officers and support staff with whom he worked."
Saying his dad created a great family, Steve Potock said, "We are who we are today based on his guidance, love and commitment to community and family. And we miss him."
"It's still really hard to celebrate occasions without him," added Steve's wife, Tami. "Walt was fabulous, and he was definitely a role model for our three children."
HAPPY TO SEE his father's life acknowledged so meaningfully, John Potock said, "On mom's behalf, we're all honored that they think of him that way. Growing up to be a commercial-airline pilot, myself, I read a lot about aviation history and heroes – and I can honestly say my dad is my biggest hero."
"We flew together quite a bit, over the years, until a year before he died, and he was a great pilot," continued John. "And he also stands as an example of the kind of integrity and values we need to remember."