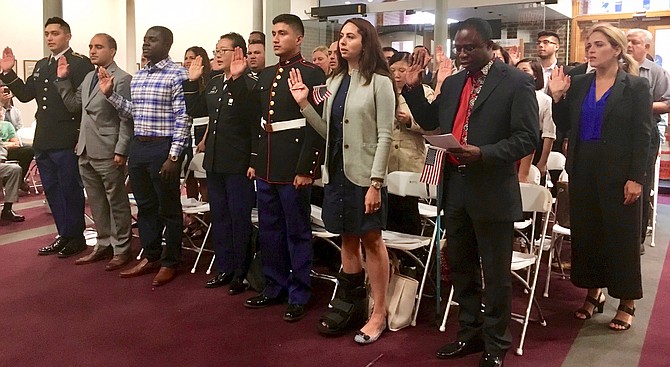 Thirty-five men and women hailing from 25 countries became U.S. citizens at a naturalization ceremony held Tuesday, Sept. 11 at city hall.
Families and public officials packed the house to honor those taking the oath of allegiance.
Five have already been serving in the Armed Forces. Among them, Army Pfc. Marcelo Sebastian Fiallos Martinez led his new fellow Americans in the Pledge of Allegiance.
In her comments, Kimberly Zanotti of U.S. Citizenship & Immigration Services (USCIS) quoted Martinez as saying: "Being a United States citizen for me means sacrifice, day after day, working like there's no tomorrow in this country to achieve a better life. For some people, it might be a passport, or a piece of paper saying that you can travel visa-free, or some other things. For me, it's how much I cried, bled, slept, sacrificed and achieved. For the things I achieved in this country, I am proud to call it now my country, my land — the one that, with hard work, gave me so much that I came to love it like I was born here."
The new citizens represent countries of origin from all over the world, including: Algeria, Bangladesh, Bolivia, Brazil, Cameroon, Canada, China, Colombia, Dominican Republic, Ecuador, Egypt, El Salvador, Estonia, Ethiopia, Ghana, Guatemala, India, Nepal, Pakistan, Peru, Sierra Leone, Sudan, Tajikistan, Turkey, and Vietnam.
The requirements for naturalization include, according to USCIS: permanent residency for at least five years; "to read, write, and speak basic English;" "a basic understanding of U.S. history and government;" "good moral character;" and a demonstrated "attachment to the principles and ideals of the U.S. Constitution."