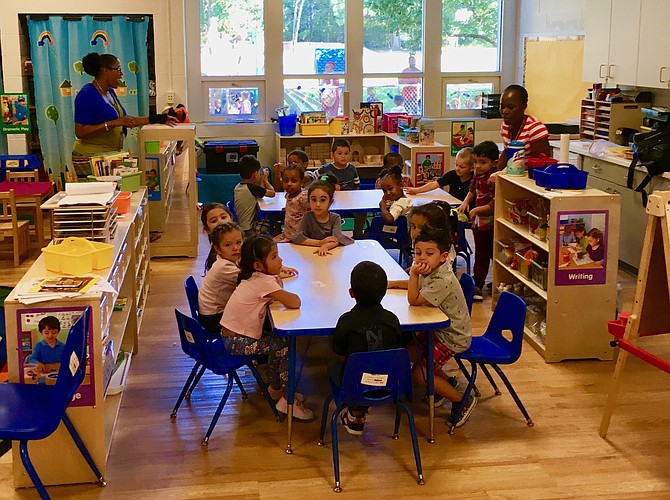 Alexandria City Public Schools (ACPS) opened a new Early Childhood Center (ECC) — a flagship initiative to bolster publicly funded preschool for West End families — on Thursday, Sep. 6.
The ECC represents an effort to bring multiple programs under one roof. ACPS directly administers three programs: Virginia Preschool Initiative (VPI), Preschoolers Learning Together (PLT), and Early Childhood Special Education (ECSE). The ECC also includes Head Start, a federal program administered in Alexandria by the Campagna Center, a nonprofit. Altogether, the ECC provides center-based — as opposed to home-based — early learning for over 300 children, including those from lower-income families and those with developmental challenges.
Though collocated at John Adams Elementary School, the ECC is a standalone operation with dedicated spaces and staff. Five other ACPS elementary schools also house preschool, but often to the tune of only a couple classrooms and staff who are relatively isolated amongst their primary school colleagues. By comparison, Heidi Haggerty, the ECC's principal, oversees 13 fully credentialed teachers and about 20 paraprofessionals, who help teach and provide care under the teachers' supervision.
Bringing programs and staff together will help them to "specialize" in early learning, said Haggerty. It also aims to facilitate a "smoother transition" for children feeding into ACPS's kindergartens, said ACPS Superintendent of Schools Gregory Hutchings.
While the ECC does provide certain care and meals, it goes beyond daycare. In addition to providing a healthy and safe environment for children while their parents work, preschool includes a systematic approach to achieving specific developmental outcomes. These outcomes include, among others, the acquisition of vocabulary and "social-emotional skills," said Haggerty. The expressly educational dimension of preschool, on top of providing care, generally requires a higher level of education and credentialing for staff. For example, Annie Handel, an ECC teacher, holds a bachelor and master's degrees in early education fields and has taken additional college courses about autism.
On the one hand, the ECC's approach is highly structured and deliberate. For example, if the children have been hearing about insects during reading time, recess might entail digging for bugs, said Handel.
On the other hand, the ECC also follows a "constructionist" approach, said Haggerty. Rather than always telling children what to do, staff sometimes let the children take the lead, adapting their teaching to child-initiated play. The simplest of play activities offers a learning opportunity. For example, playing with blocks can help enable a cognitive move from the "concrete" (the block is a block) to the "symbolic" (the block is, say, a car), she said.
The ECC also programs opportunities and contexts children's socialization. For example, family style meals give staff a change to "role model" behavior around the table, said Haggerty. Additionally, every student has a job, such as helping to clean up or to set the table for breakfast, said Handel.
All in all, "this is the best first day we've ever had," said Handel.
For more, visit www.acps.k12.va.us/preschool, www.campagnacenter.org/programs, www.alexandriava.gov/ChildCare.