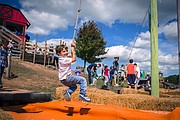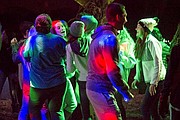 Details
Fall Festival Schedule
Daily: Sept. 22-Nov. 6

Pumpkin Madness: Nov. 3-4

Hours: 10 a.m. to 6 p.m. (Closing at 5 p.m. in November); last admission one hour before closing.
Fields of Fear Schedule
Friday and Saturday Nights: Sept. 21-Nov. 3

Bonus Night: Sunday, Oct. 7

Hours: 7:30-11 p.m.; last admission at 10 p.m. (Deluxe tickets/some attractions may sell out earlier).
It's that time again. The annual Cox Farms Fall Festival officially kicked off last weekend and will run daily from Sept. 22 to Nov. 6. The Fall Festival features such attractions as hayrides, giant slides, rope swings, the Cornundrum Cornfield adventure, the Imaginature Trail, Foamhenge, the Tractor Museum, and all sorts of farm animals and their babies. A friendly goat herd welcomes visitors to Billy Goat Village, where they can visit and feed them. Each slide is themed differently, so you'll fly out of castles, barns, and volcanoes, exploring everything from dinosaur digs to mining towns to giant beanstalks.
According to Aaron Cox-Leow, co-farmer in chief: "It sounds cheesy, but for me, the most exciting new thing each year is our incredible team of Cox Farmers. We have an amazing group of over 500 employees, including more than 250 brand new employees, 250 returning employees and 60 members of our Leadership Team. Most of our employees are locals who came to the farm as customers before they became employees, so they're personally invested in recreating that same magical experience for visitors now."
Cox-Leow said this year, their focus has been on making improvements rather than going for big, splashy new additions. "We thought about the most common complaints we hear, things like crowds/lines, bees, admission prices. Then we asked ourselves how we could address those concerns to improve the customer experience, and we tried to tackle those challenges."
Although Cox Farms was founded in 1972, it wasn't until the early 1980s that they held the first Fall Festival on a single weekend. It has been steadily growing to its present-day phenomena ever since.
The Fall Festival has four tiers of admission: Discount, Value, Regular, and Peak. All four tiers include the same attractions, but you'll pay less on our Discount and Value days, and more on our Peak days. On Discount days (Sept. 24, 25, 26, 27, Oct. 1, 2, 3, Nov. 1, 2, 2018), admission is $6 per person. Value admission (most weekdays, not including Indigenous Peoples Day, plus the first and last weekends of the season) is $10 per person. Regular admission (Sept. 22, 23, 29, 30, Oct. 27, 28) is $15 per person. On the busiest and most popular weekends in October (Oct. 6-8, 13-14, 20-21), Peak admission is $20 per person. These pricing options allow visitors to save by planning their visit on a non-Peak date. If you prefer to avoid crowds and lines, it is recommended to choose a non-peak date to visit. All dates and admission price information can be found at www.coxfarms.com/fallfestival/ticketbooth.aspx.
To support local public servants, Cox Farms offers a $5 discount on up to four Fall Festival tickets to public servants during the Public Servants Weekend on Sept. 22-23 this year. Government employees, educators, first responders, law enforcement, nurses and members of the military can save $5 by presenting a valid badge or identification at the ticket booth. For folks in search of a deal on October weekdays (not including Indigenous Peoples Day, Monday, Oct. 8) after 4 p.m., $5 "Last Call" tickets make those after-school visits a bargain. Cox Farms Members and Fear Fanatics receive additional discounts and offers. Sign-up is available through the website as is additional information about perks of the program, which include seasonal freebies all year long.
When night falls on the farm, it's time for Fields of Fear, which is celebrating its 10th year. Fields of Fear is on Friday and Saturday nights from Sept. 21-Nov. 3, plus "Bonus Night" Sunday, Oct. 7. The Cornightmare got a total overhaul, with almost all new scenes and tons of new scares. Cornightmare joins the two other haunted attractions, Darkside Hayride (featuring The Lost Circus) and The Forest: Back 40. The Firegrounds feature several bonfires, a six-lane slide, music, karaoke, entertainment, tasty treats, Foamhenge, and more.
Fields of Fear now has four tiers of admission, similar to the daytime Fall Festival admission structure. This means that they lowered the price of admission on four nights, left eight nights the same price as 2017, and raised the price on our three busiest nights. All dates and prices can be found at http://fieldsoffear.coxfarms.com/tickets/deluxe.aspx.
Also new this year is a new and improved Apples and Cider station, where you get your free apples and apple cider during your visit. The structure features a fancy dispensing system designed to be user-friendly for humans and less appealing for yellow jackets. "We also added a new food stand called "Guess What?", which features chicken tenders, waffle fries, and as a couple fancy salads and soups. In the Festival Market, you can get warm biscuits with butter, honey, and your choice of apple butter or pumpkin butter," he said.
The management plans to announce any weather impacts or closures by 7 a.m. each day and the Festival Market will be open daily, even if the festival ends up being closed due to rain. For more information, visit www.coxfarms.com and www.fieldsoffear.com.