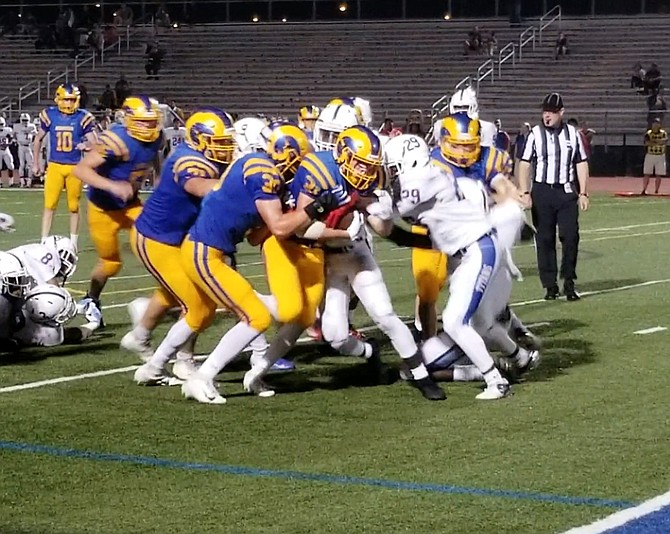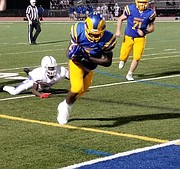 "You can see we're different than most high schools. …We just try to pound defenses and run it down their throat and that's what we do. We take pride in that all the time." —Robinson running back Tanner LaPlante
Robinson running back Tanner LaPlante secured a toss, headed to his right and turned up field before being met by a group of T.C. Williams defenders.
LaPlante kept his legs moving as he blasted through the initial resistance and then slammed into another would-be Titan tackler. Now 5 yards from the end zone, the bruising ball carrier pumped his legs and pounded his way across the goal line, dragging an opponent along for the ride.
"I tried to cut in and then I just ran into a wall," LaPlante said. "I just kept my feet moving and I was lucky enough to get in the end zone."
LaPlante's 9-yard touchdown run gave Robinson a commanding three-score lead in the third quarter and epitomized the team's dominant offensive performance. The Rams rushed for more than 350 yards, scored the game's final 31 points and improved to 4-0 with a 45-12 victory over T.C. Williams on Sept. 13 at Robinson Secondary School.
ROBINSON has long been known for its run-oriented wing-T offense. But the Rams' ground game was particularly physical on this Thursday evening, with running backs punishing tacklers and wearing down the T.C. Williams defense.
"We didn't think we were super physical or executed super well last week, so we worked real hard on it this week in practice," Robinson head coach Scott Vossler said. "… The guys responded. We lost a tough game to TC last year, so our guys were hungry for this one."
LaPlante, a junior, and senior Salam Lawal tormented Titan tacklers, each eclipsing 100 yards. Lawal carried 12 times for 157 yards and two touchdowns, while LaPlante totaled 15 carries for 126 yards and a score.
"They are running really hard right now," Vossler said. "We tell our backs [that] backs are measured by what they gain after contact. Anybody can run through big holes and get 15 yards and get tackled by the first guy that touches them. We want our guys to be able to get us tough yards. Some of their best runs are the ones where we should have maybe got zero and they get us four. That keeps the chains moving. Both of those guys ran through some trouble."
Lawal's first touchdown didn't require much in the way of power, as he took a handoff and raced through a gaping hole in the Titan defense for a 58-yard score with 4:01 remaining in the second quarter.
Nearly three minutes later, Lawal broke a tackle during a 7-yard touchdown run, giving the Rams a 28-12 lead they would take into halftime.
"We just saw [the Titans] start to crumble," Lawal said. "We just thought in our heads, keep making them get weaker and weaker. We kept rotating our backs, getting fresh backs in, and just kept pounding the ball. [We made] sure they couldn't stop us."
LaPlante capped Robinson's first drive of the second half with his determined 9-yard touchdown run.
"Tanner had one down there on the goal line in the second half where we had no business getting in (the end zone)," Vossler said. "He made a play for us. That kind of stuff bails out the play-caller every now and then."
Quarterback Asa Ballenger, and running backs Matt Sebenick and Russian Williams each scored a rushing touchdown for Robinson.
Running back Anthony Eaton scored a pair of rushing touchdowns for T.C. Williams.
THE VICTORY was Robinson's fourth straight to open the 2018 season. After a bye week, the Rams and their wing-T offense will travel to face Hayfield at 7 p.m. on Sept. 28.
"You can see we're different than most high schools," LaPlante said. "We just try to pound defenses and run it down their throat and that's what we do. We take pride in that all the time."