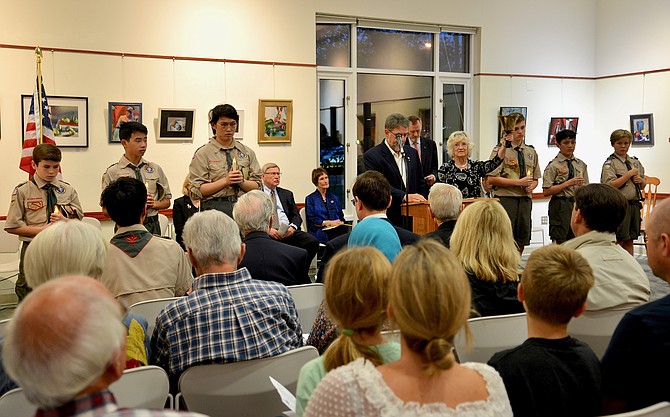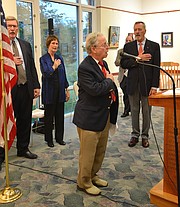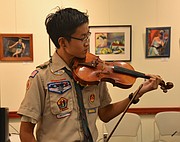 "Noble men and women of our land have stepped forward and offered their lives to defend this treasure. We now show our respect and devotion to these heroes."
Those were the words of the late Marine Corps Colonel (Retired) Pete Hilgartner. After attending a candlelight 9/11 remembrance vigil on the Great Falls Green in 2002, Hilgartner felt compelled to ensure that a more fitting and permanent site be constructed. Well-used to taking command, Hilgartner co-founded the Friends of the Great Falls Freedom Memorial and galvanized a volunteer army to construct the Memorial, dedicated in 2004, behind the Great Falls Public Library.
This year's 9/11 Remembrance Ceremony was supposed to be held at the Memorial. Inclement weather moved the gathering to a meeting room inside the Library and forced the scheduled Color Guard Detachment, U.S. Marine Corps, to bow out at the last minute, but did nothing to dampen the spirit of the event – coming together to remember those lost on that tragic day and joining together to reaffirm "the values that make us Americans," as host Andy Wilson, president of the organization said to the attendees.
A ROOMFUL OF GREAT FALLS RESIDENTS were joined by Chairman Sharon Bulova of the Fairfax County Board of Supervisors, Dranesville District Supervisor John Foust, U.S. Rep. Barbara Comstock, and State Del. Kathleen Murphy.
In addition to remembering the fallen military and civilians lost on 9/11, Wilson also asked the community to remember the first responders who "charged into danger without hesitation" and who continue to do so today. His tribute to those heroes lead to a standing ovation for the members of Fairfax County Fire and Rescue Station 12 who were present at the ceremony.
After his opening remarks, and a moving invocation by John "Sandy" Pidgeon Jr., retired Navy Seal and VP of the Friends of the Great Falls Memorial, local Boy Scout Troop 55 demonstrated true American adaptability, taking over for the Marine Color Guard Detachment, handling the Presentation of the Colors duty with admirable precision and gravitas and leading the assembly in the Pledge of Allegiance.
Volunteerism continued to be on display, as Great Falls resident Richard Kuntz answered Wilson's call for "someone who can hold a tune and get us started" singing the National Anthem, and later "Amazing Grace," "God Bless America," and "America the Beautiful."
Accompanied by Boy Scout James Ye on the violin for all of the musical offerings, Kuntz proved that he could do more than "hold a tune." Despite the somber ambience of the occasion, the audience was moved to applause for both musician and lead singer after each selection.
Keynote speaker Sharon Bulova said that she played no "heroic role" on Sept. 11, 2001. The Braddock District Supervisor at the time, Bulova, like many Fairfax County residents, spent many anxious hours waiting for news of loved ones and friends who worked at the Pentagon or in and around the District. She eventually learned that her husband, working at the Department of Justice, was safe, as was her daughter-in-law's father, who experienced the Pentagon's attack, but fortunately was not seriously injured.
The events that transpired that day and in the days beyond inspired Bulova to record those events and her thoughts in a journal, from which she read at the Great Falls Remembrance Ceremony.
"On this spectacularly beautiful September day, the whole world has come to a stop – like a blizzard. … During the hours after the 9-11 attack, I began to hear about losses within Fairfax County. All together 184 people were killed at the Pentagon, including my good friend Abe Scott's wife…Six residents of Great Falls were among the dead. "
To the haunting strains of "Taps," played by 17 year-old Walt Whitman High School student Ben Wolstein, the names of those six were read out by Calvin Follin, as Pete Hilgartner's widow, Sara, rang a bell for each, and members of Troop 55 held flickering "candles" to honor them.
Lost from the Great Falls community that day were:
1st Lt Richard P. Gabriel, USMC, Ret.
Ann C. Judge
Barbara K. Olson
Lisa J. Raines
Diane M. Simmons
George W. Simmons
SEVENTEEN YEARS AFTER 9/11, the pain of their loss still remains, but as painful as the remembrance can be, "We can't lose this memory," urged Wilson, saying that the memory of these lost loved ones helps keep us true to the values that make us Americans – values like "Selflessness," "Humility," "Compassion," "Respect," "Duty," and the other powerful words that are etched into the stones that form the Great Falls Freedom Memorial. Gatherings like these, noted Wilson, are needed to maintain the bonds of humanity that form community.
Chairman Bulova agreed.
"Looking back, [9/11] forged a culture in Fairfax County that defines us today. We are a welcoming community, supportive of each other and accepting of our differences. If there was a silver lining to the devastating terrorist attacks of 9/11, this is it: We were – and are – stronger than ever before."
To learn more about the Friends of the Great Falls Freedom Memorial or to support their efforts, visit their website at www.gffreedom.org.