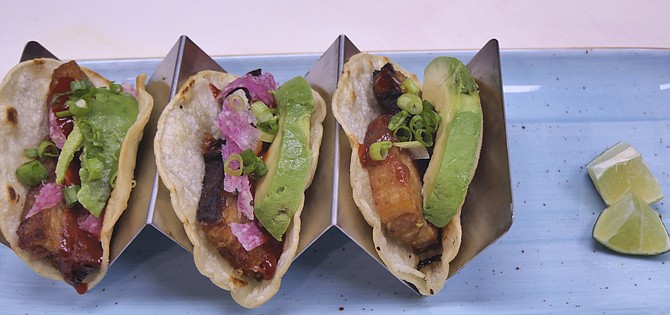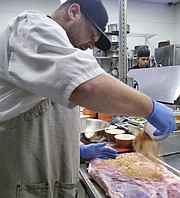 Steve Rosenthal measures out garlic and onion powder, oregano, mustard seed, and other herbs and spices into 8 small purple cups. "I weigh everything," he says. Rosenthal is making the rub for the pork belly tacos at Tequila and Taco on John Carlyle where he has been the executive chef since it opened in May 2019. He says this is his favorite dish and the customer favorite as well.
Rosenthal empties each small dish into a large aluminum bowl and mixes in brown sugar and Kosher salt, tossing it around and mashing the sugar with his hands. "I make sure I get all of the little clumps of sugar out." This will make enough for about two quarts of the rub he spreads on the pork belly before baking it for six hours at 225 degrees. The rub mixture will last about a week.
He turns to the sauce that will be squirted on the top of the finished taco. "It consists of three ingredients: rice wine vinegar, dark brown sugar and gochujang (brown rice red pepper paste.) This has a spice to it but I meld it out with vinegar and sugar." He says he uses about equal portions of each ingredient." Rosenthal says he makes all of his sauces using his own recipes. "I try to make everything homemade that I can and out of fresh ingredients."
Each table in the restaurant has a plastic bottle of his Serrano, Fresno and Habanero sauces. Habanero is the favorite. "I make it by soaking orange habaneros in white vinegar for two weeks and then simmering it with roughly chopped carrots and Spanish onions and freshly squeezed oranges." He won't reveal any more. "It's my secret recipe."
Rosenthal pulls a 10-pound pork belly out of the cold storage and pulls off the plastic wrap. He places it on a large cookie sheet with the meat side up. "I pull off the loose fat and sprinkle an 8-ounce cup of rub mixture over the meat. I rub it in there real nice to get the flavors goin' inside."
He flips the pork belly over and sprinkles an additional 8-ounces of rub on the other side. "I make sure I get the whole thing covered, all the little areas." Rosenthal has slivered seven cloves of garlic. "I always slice the butts off first." He bruises several sprigs of thyme with the back of his chef's knife and then peels slices of lemon peel and chops finely to make zest.
Rosenthal sprinkles half of the garlic, thyme and lemon zest in the bottom of a large pan, then places the pork belly on the top and adds the other half. "Now I'll wrap the whole pan in plastic and let it sit overnight to marry the flavors. "I use one of these pork butts every day.
"Now let's go make ourselves some tacos." Rosenthal flips three white corn tortillas on the grill that has been wiped with canola oil. "I only use canola oil. There are too many allergies out there now." He has sliced rectangles of pork belly which he sinks in a 7-gallon vat of oil to get them GBFD (Golden Brown Fluffy and Delicious.)
Rosenthal has flipped over the tortillas and removes them from the grill onto a cloth towel and presses down to remove any extra oil. He places tacos in a three-tiered metal holder and adds two crunchy pork belly slices to each. "Now a little bit of shredded radish and a healthy squirt of gochujang sauce. Now a nice little slice of avocado and a little bit of scallions." He slips the tacos onto a rectangular blue plate with just enough room for two lime wedges.
Rosenthal says cooking is fun and relaxing. "There is something comforting about cooking food. I like to watch people take a bite of something I made and they don't say anything but I get that little head nod." His says his whole family cooked but he learned to cook from his mom. His favorite? "Oh wow, one of my favorites was her zucchini bread. She made it all summer long. It brings me back to my childhood."