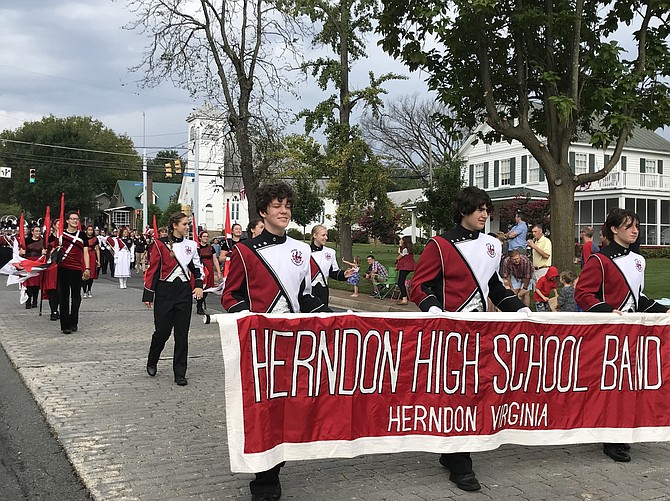 "This is a warmth I haven't felt in such a long time. People, families and children are gathering on the sidewalks, lawns and porches to cheer and support each other for today's Herndon Homecoming Parade 2018. This event reminds you what's really important. Social connections," said Les Zidel, Town of Herndon resident.
Saturday, Sept. 22 marked the Herndon High School Homecoming Parade 2018. Costumes, banners and floats portrayed this year's theme, "Under the Big Top."
Although homecoming parades are generally thought of as events for students, families, alumni and friends to rally together and support the school before the big game, in the Town of Herndon the annual parade is much more. Herndon High School may be one of the threads that course through the town, but it is the community, the local scouts, athletes, elementary school students, members of local organizations and businesses, and politicians who add the other strands of fiber to create the fabric of the Town of Herndon. And it is that, the community, new residents and established, less than one "Big Top" which reverberated throughout the town.
This year, the Homecoming parade ran the entire length of the town's main avenue, Elden Street. Spectators stood three to four deep in some areas. Porch parties attracted more than seventy-five attendees at given homes along the route.
"Fifty-eight units and well over 1,300 participants marched in the parade," reported Abby Kimble, marketing specialist for the Herndon Parks and Recreation Department.
After the parade, the action moved onto the football field at 1 p.m. for the Homecoming football game where the Osbourn Park Yellow Jackets beat the Herndon Hornets 21-14.
Award Winners
Civic Group
First Place-Girl Scouts Service Unit 51-9, Second Place – Cub Scouts Pack 1577
Performing Arts Group
First Place-Rhythm Street Dancers, Second Place – Herndon High School Step Team
School Group
First Place – Clearview Elementary School, Second Place – Hutchison Elementary School
Show Group
First Place – Herndon Optimists Youth Sports, Second Place – Herndon Woman's Club Wreaths Across America
Class Floats
First Place – Herndon High School Junior Class of 2020, Second Place – Herndon High School Freshmen Class of 2022
Richard F. Downer Theme Award
Herndon High School Senior Class of 2019
Major Robert C. Church Award
Best in Parade – Herndon Elementary School