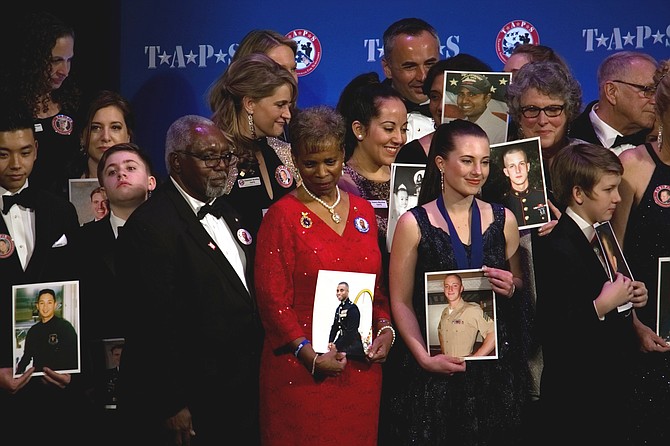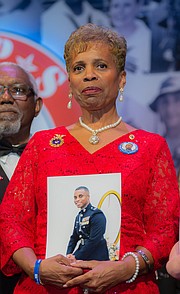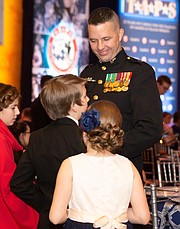 Every Wednesday night, Kevin Penn gets behind the bar at The Light Horse Restaurant in Old Town. Penn recently became a co-owner, investing in the restaurant that was opened in 2008 by his friend John Jarecki. His weekly tips are his only income from the restaurant as he gets acclimated to the food service industry following a 20-year career in the Marine Corps.
As exhausting as his bar shifts can be, Penn says it is worth every minute since those tips have a higher purpose: every dollar he makes goes to supporting the Tragedy Assistance Program for Survivors, or TAPS.
"I don't even count what I make at the end of the night," Penn said. "I just put it away and have this wacky idea that by the time I decide to count it, someone will step forward to match what I have saved in order to help TAPS families in some way."
TAPS is the leading national organization providing survivor support services for the families of America's fallen military heroes. Since 2010, Penn has volunteered with the organization as a mentor to surviving military children and, on March 6, he was honored as the 2019 Military Mentor of the Year at the TAPS 25th anniversary Honor Guard Gala at the National Building Museum.
"As a TAPS military mentor and volunteer, Kevin has given selflessly to honor our nation's fallen heroes by bringing comfort and support to their surviving families," said Bonnie Carroll, TAPS president and founder and 2015 Presidential Medal of Freedom recipient. "For so many TAPS children, Kevin has been a role model who keeps them connected to the military community and reminds them that they are never alone."
More than 800 surviving military family members, supporters, congressional representatives and Pentagon officials attended the gala honoring the nation's fallen military heroes and recognizing Penn's work with survivors.
"As a military mentor at TAPS, we receive far more from our service than we can ever give," Penn said upon receiving his award. "To the TAPS families here and across the globe, thank you for letting us celebrate the lives of your loved ones and share in your journeys."
Penn enlisted in the Marine Corps in 1996. His 20 years of service included several deployments, including a stint in Alexandria from 2009-2012 and again following his retirement three years ago.
"John and I met through TAPS back in 2011," said Penn of Jarecki. "He is a survivor. He lost his father, who was an Air Force pilot, when he was just a kid. Through my Tips for TAPS behind the bar, I am able to support John and the TAPS families through The Light Horse."
The Light Horse recently held a TAPS fundraiser with $1 of every Port City Brewing beer sold going to the organization. Penn and Jarecki are planning other ways to raise money for TAPS families.
"John is already working on a second TAPS Takeover since the first one was such a success," Penn said. "And I have crafted five specialty cocktails for each branch of service known as the Joint Chiefs that will be available to preview on Wednesday nights along with a new Challenge Coin and punch card. We want the community to know of our commitment to the military, to local customers and to TAPS."
Funds raised from Jarecki and Penn's efforts will be used to support TAPS programs, which includes grief counseling, access to community-based care, casework assistance, a 24/7 helpline and special programming for suicide loss survivors. All services are provided at no cost to families.
"My TAPS families mean the absolute world to me," said Penn. "Doing everything I can to support these families in their hope and healing is the purest, most rewarding thing I do with my life. I will do this until I can't do it anymore."
For more information visit www.taps.org or call the TAPS helpline at 1-800-959-TAPS (8277).