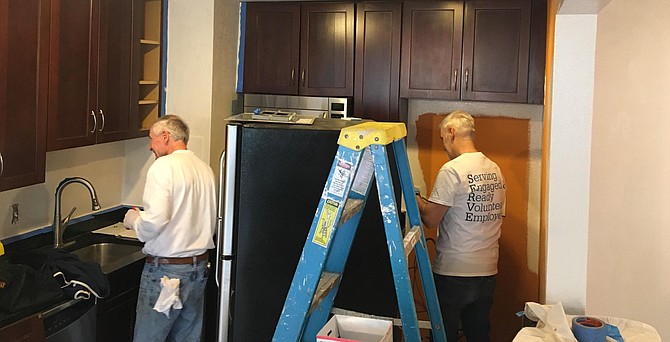 Laura left her job of 18 years to be a full-time caretaker for her chronically ill husband. The expenses piled on as she did everything she could to keep him healthy and comfortable. When her husband eventually passed away, Laura had little time to grieve before she was overwhelmed with things in her home in need of repair. Her income as a widow was even more limited than before. When she turned to us for help, her air-conditioning unit and refrigerator were not working, and she was struggling to get in and out of her shower.
We sent a skilled member of our Mod Squad team to make the repairs in Laura's home that took a back seat to her husband's needs for many years. The Mod Squad member installed two grab bars in her bathroom, replaced her shower head, and weather stripped the front door. We then replaced her refrigerator and sent an HVAC professional to fix a complicated leak in her air-conditioning unit. All of this at no cost to her. Laura wrote us multiple notes of thanks not long after the repairs were completed saying, "We hardly realize that we receive a great deal more than we give ... After my husband passed, it became very difficult to make it on one income ... Thank you for all you have done for me." We were thrilled to be able to take care of this caretaker's safe and healthy housing needs.
Laura's story is more common than we realize. According to the Employee Benefit Research Institute, one in five Americans will leave the workforce early to care for an ill spouse or other family member. Women especially can end up as primary caretakers at three different stages of life — caring for children, elderly parents, and their spouse, because women live longer on average. If you are interested in giving back to people like Laura, get involved and join our skilled Mod Squad repair team or our Development Committee. Please contact us at 703-836-1021.
Rebuilding Together DC • Alexandria is an award-winning, mission-driven organization that creates healthy neighborhoods for residents by maintaining housing for low-income homeowners, revitalizing community spaces, and creating homeownership opportunities. Since 1986, more than 29,000 volunteers have worked on 2,200 projects, leveraging $8.8 million worth of in-kind value to the area.
We are now accepting applications from homeowners for free home repairs. Visit www.RebuildingTogetherDCA.org or call 703-836-1021.