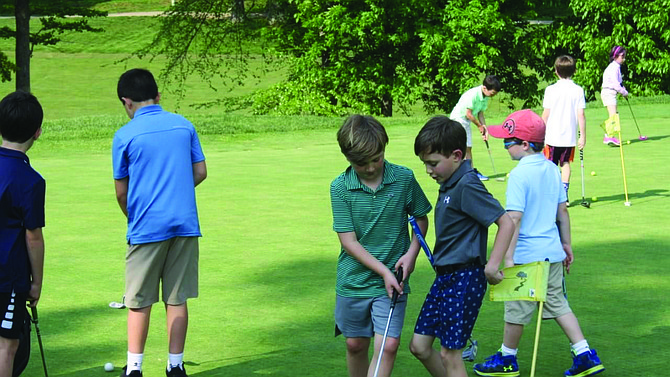 The 2019 Celebrate Great Falls Foundation Charity Golf Tournament is on May 20. Since being founded in 1995, the tournament raised money for local charities before directing 100 percent of the proceeds to our local elementary schools (Great Falls, Forestville, and Colvin Run). More than $150,000 has been split between the schools since 2012, and the golf tournament committee is hoping to exceed last year's success, which netted $11,000 for each school.
Returning co-chair Kristin Dailey said, "This event makes a truly significant and recognizable difference in the classroom. Last year, we were able to raise $39K that went directly to enhancing technology, music, arts, and so much more for our students."
First time co-chair, Dennis Peery, added "as a tournament co-chair and GFES parent, I'd like to thank the Celebrate Great Falls Foundation and the tournament's sponsors, players and volunteers for their support over the years. Although its focus has evolved, I'm glad to see the event take place in our school community."
Dailey and Peery, along with their co-chair, Meredith Broome, have made some changes to draw even more interest this year. "We are incredibly excited about this year's tournament. We have an all-new location, and the change in venue has already generated a tremendous amount of enthusiasm," Dailey says.
A new event has been added to include more ladies: a 9 a.m.-11 a.m. Ladies Tennis Social which includes two hours of pro-directed play, followed by a light lunch sponsored by local women's philanthropic group, Great Falls Friends and Neighbors (GFFN). In addition, the popular Kids' Putting Contest sponsored by AOG Wealth Management returns this year.
Early bird pricing ends on April 15, so register soon. Tickets are $250 until 4/15, and $300 thereafter. Ticket price includes a round of golf with cart, complimentary on-course beverages, a player gift, one ticket to the awards reception with cocktails and heavy hors d'oeuvres.
There are four major sponsors right now - Green Hill Landscaping, Costa Family & Cosmetic Dentistry, Digital Global Connectors, and CBSI – but there is still time to sign up.
A concurrent silent auction ending at midnight the day of the tournament offers chances at a variety of prizes. Everything from principal for the day, VIP parking at sixth grade graduation, to personal training, summer camp registration, and a free stay at any Waldorf Astoria are up for grabs.
This year's tournament proceeds will go towards purchasing new computers and software to be used by students. Volunteers are needed the day of the tournament to keep things running smoothly, Sponsors are needed to underwrite the costs and, of course, golfers are needed to play. For more information, go to http://www.greatfallsgolf.org/