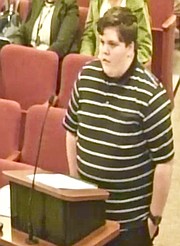 The School Board voted unanimously to weigh in on behalf of a transgender former high school student who's suing a different Virginia municipality's School Board for discrimination.
The case is Gavin Grimm ("G. G.") v. Gloucester County School Board, currently making its way through the federal courts. Gloucester County sits on Virginia's western Chesapeake shore, about 100 miles south of Alexandria. The U.S. Supreme Court nearly took the case in 2017, but remanded it to a lower court.
Gloucester's School Board contends its policy of "separating restrooms by anatomical and physiological sex" is nondiscriminatory and falls duly under local legislative purview. Grimm, who publicly transitioned from a female to a male gender identity upon entering his sophomore year in 2014, disagrees. The policy compelled him to use separate single-stall bathrooms, according to court filings available via the American Civil Liberties Union, Grimm's legal counsel provider. Using separate bathrooms was "stigmatizing" and caused Grimm to miss class time for their "very inconvenient" location. Grimm, now age 19 and graduated, wants the court to rule that his former school system violated his federal equal-protection and -participation rights, among other things. Gloucester's School Board wants the case dismissed.
Alexandria's School Board voted on Thursday, March 21 to join Fairfax, Arlington and Falls Church in an amicus brief supporting Grimm. The board reviewed a draft in closed (nonpublic) session. The brief did not become publicly available until its filing on Tuesday, March 26.
An amicus brief is a petition by "a person or group who is not a party to an action, but has a strong interest in the matter, … with the intent of influencing the court's decision." That's according to the Legal Information Institute at Cornell Law School.
Grimm was identified by hospital staff as a female at birth and enrolled as a girl in previous school grades. But "I have always known that I am a boy," he said in court filings. Around age 13, "I first learned about the term 'transgender' from the internet, and realized that there was a word for the feelings I had felt all my life."
Grimm's mother furnished the high school a "'treatment documentation letter,' from his psychologist." The letter asserted "that [Grimm] was receiving treatment for gender dysphoria and stated that he should be treated as a boy in all respects, including when using the restroom."
The filing defines gender dysphoria as "persistent and clinically significant distress caused by the incongruence between [a 'deeply felt, inherent sense of'] gender identity and the sex assigned to them at birth."
The school administration at first let Grimm use the boys' restrooms on campus. But after hearing concerns from constituents, including other students' parents, Gloucester's School Board voted 6-1 to approve a new policy: "the use of [male and female restrooms and locker rooms] shall be limited to the corresponding biological genders, and students with gender identity issues shall be provided an alternative appropriate private facility."
According to the Gloucester School Board's court filings: "All students may use either the restroom and locker room facilities that correspond with their anatomy and physiology or one of three [subsequently installed] single-stall restrooms available for any student. … Simply put, the … policy does not discriminate."
"Although any student was allowed to use the single-user restrooms, no one else did so. Everyone knew they were created for [Grimm]," say Grimm's attorneys.
Gloucester School Board further asserts: "Questions of policy … are the province of legislative bodies, not the judiciary. Grimm's reliance on assertions that other school districts have successfully adopted policies consistent with those that he advocates is not material to the claims at issue here. Instead, the question is whether the School Board's policy violates federal law, not whether it is the best or even a desirable policy in the judgment of a federal court."
Alexandria and the other signatories submitted their amicus brief "to share their perspective as school boards that have successfully prohibited gender-identity discrimination …."
Alexandria's School Board amended its nondiscrimination policy (Policy AC) in 2015 to include "gender identity" and "gender expression" as enumerated protected categories. Its other related policies include Policies JB and GBA/JFHA.
According to the brief: "Our school administrators carry out this general non-discrimination policy on a case-by-case basis, exploring with individual students the use of pronouns and names, providing support to families, and ensuring appropriate access to school facilities, including permitting students to use the restrooms corresponding to their gender identity when requested. [This has] led to uniformly positive results in our schools. Transgender students report greater feelings of acceptance, safety, and connection to other students. … Conversely, [we] have seen none of the negative consequences predicted by opponents of such policies. Male students, teachers, and parents have not used the policy as a ruse to improperly access female restrooms. Sex offenders have not exploited the policy to prey on children. Transgender students have not suffered greater stigma or trauma. And cisgender [felt identity corresponds with birth gender] students have not suffered academic decline."
Some 4,200 transgender youth (ages 13-17) live in Virginia, according to the brief.
Virginia law allows elected bodies to consider some matters in closed session, including certain legal consultations. Though it says "nothing … shall be construed to permit the closure of a meeting merely because an attorney representing the public body is in attendance or is consulted on a matter."
Asked why the Alexandria School Board's decision to try to influence a high-profile case, to which it isn't party, wasn't subject to a fuller public process, spokesperson Helen Lloyd said: "It is neither practicable nor legally required for the Board to hold a public hearing prior to each vote. … This matter involved pending litigation with a very short deadline …. The Board was faced with a decision: to either remain silent … or to stand united with other local jurisdictions in support of all students."