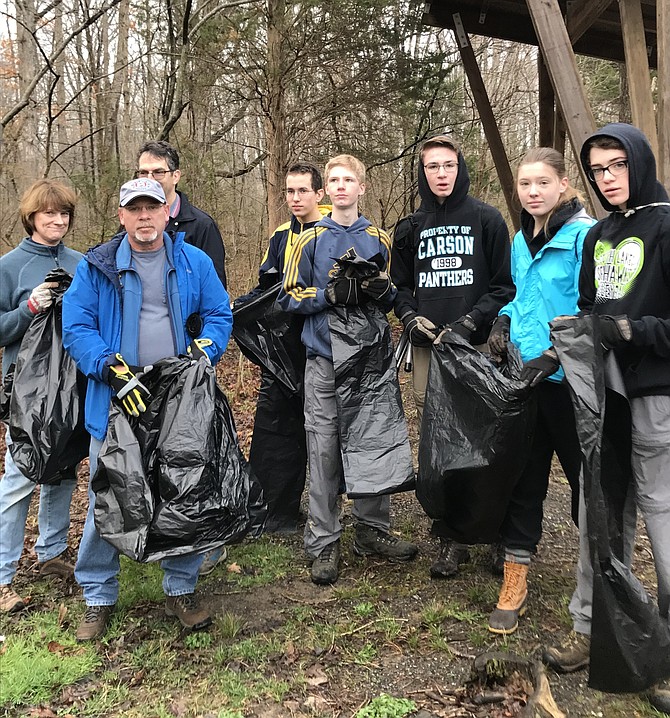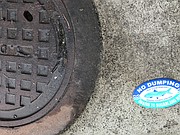 One by one and in groups the volunteers came, people like Bill Wilde of Herndon, Christine Westbrook of Vienna, Crystal Reyna of Bristow and April Eubank, a new Town of Herndon resident. They and others met at the main entrance of Runnymede Park in Herndon early Saturday morning April 6 to participate in the annual Parks & Stream Clean-Up Event sponsored by the Friends of Runnymede Park, Town of Herndon Parks & Recreation and Community Development departments.
"Runnymede is a beautiful passive park, open to the public for nature walks, bird watching, and enjoying the native plants and flowers," said Sandra Browning, member of the Board of Directors Runnymede Park.
"Nobody really likes to look at the litter," said John Dudzinsky, Community Forester for the Town of Herndon. "People like a clean environment and the effort we are doing here is beneficial to our people, wildlife and our watershed," he said.

Dudzinsky explained that watersheds slow stormwater runoff and help in settlement of particulate matter. Watersheds support habitat for plants and animals and provide drinking water for people and wildlife. "A watershed is where water collects in a specific area and then flows to a stream, to a river, to the bay and the ocean. Watersheds are important not only for wildlife, but they provide us with our drinking water. The reason why we are doing our cleanup is to collect all the litter, so it doesn't flow downstream from the watershed into the Potomac River and the Chesapeake Bay."
Dudzinsky assigned one of the first groups with Wilde and Westbrook to the wooded perimeter of Haley Smith Park. The next group, with Reyna and her classmate Zenab Kabbara, he assigned to the Runnymede bio pond and trails. The third group, Boy Scout Troop #157 of Herndon, Dudzinsky directed to Trailside Park. On and on for a total of 13 cleanup locations, 13 crews of volunteers made a big difference in a short amount of time.
During the same morning, the Town of Herndon offered a free and secure document shredding service. "It's a great event where you can bring documents and safely have them shredded. I can see them shredded," said Fermina Rochac.
Runnymede Park is located at 195 Herndon Parkway between Elden and Queens Row streets.