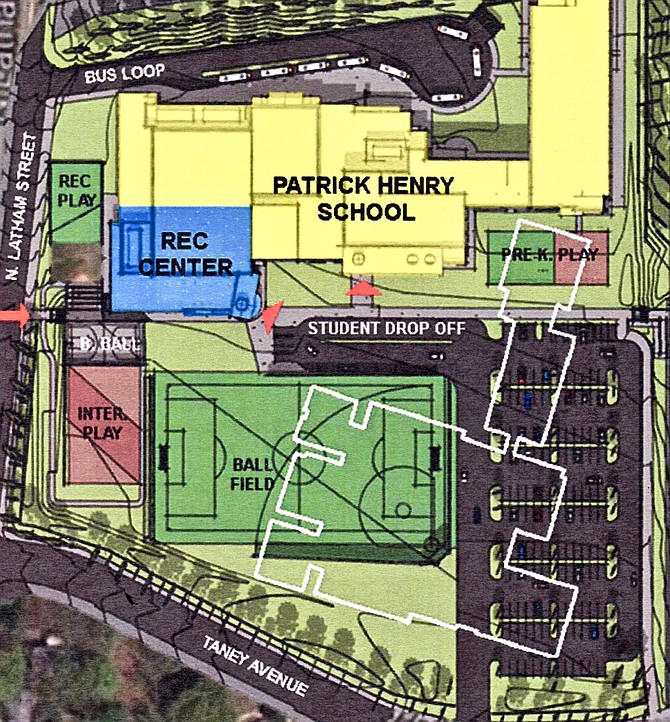 Over community pushback, the School Board approved a contentious plan to use the old Patrick Henry K-8 School building as interim "swing space."
The vote, held Thursday, April 4, was 8-1 with School Board member Heather Thornton dissenting.
The school system originally planned to raze the old Patrick Henry building shortly after the new one opened in January. But the administration then thought to repurpose the old building as an interim facility — "swing space" — to educate students from Douglas MacArthur Elementary while it undergoes reconstruction. The School Board had slated the Douglas MacArthur rebuild to finish in FY 2025, subsequent to constructing an entirely new school elsewhere. That new school would have served as swing space before converting to its permanent use, perhaps as a new middle school. By patching up the old Patrick Henry building instead, staff think they can advance Douglas MacArthur by two years. They also reckon the re-use plan avoids the need for a new campus entirely — at least over the next decade — saving $60 million earmarked for that project. They'd divert that money to meet rising costs for other capital projects, especially high school capacity expansion slated for FY 2020-2021.
With its retooled swing space plan, staff foresee delaying the old Patrick Henry demolition by four years. They say they only need swing space for MacArthur, not for subsequent school rebuilds.
But many in the surrounding West End community feel railroaded by the relatively sudden change of plans. They've expressed concerns about what they see as rushed and superficial community engagement; lack of trust in reassurances that the new four-year timeframe won't extend again in the future; exacerbation of traffic congestion and poor mitigation and enforcement by the city government; exacerbation of parking unavailability, including from additional teachers, buses and parents driving to and from the doubled-up school site.
More than 550 people signed a petition opposing re-use of the old Patrick Henry building, said Mary Brazier, president of the Patrick Henry PTA. According to the petition: "Patrick Henry School and the surrounding neighborhood have already endured a difficult construction process [over the past few years] which put stress on the entire community and limited students' outdoor play opportunities."
"It seems like this was presented as a fait accompli [an already done deal]," said Joel Finkelstein, a nearby homeowner, at a March 20 town hall with school officials. "How were you not thinking about [reusing the old building] for multiple years? It is shocking and it is not what we want from municipal management."
"I don't see a whole lot of time to do a proper feasibility study. … I know how government runs around here, it's slow and inefficient," said homeowner Kellen Patterson. "This would have been a brilliant idea if it was thought about ahead of time and had the foresight and the proper communication and proper planning. Now it just feels rushed and … ad hoc."
"We've always been concerned that the city and [school system] have been short-sighted. … Why not take the time and invest that $60 million in a swing space school which will also add capacity?" said homeowner Keith Kruse. "Our concern is [that] this is going to become the permanent swing space [for multiple school reconstructions]. … I know you've told us that that's not the plan, and I appreciate that, but it's not you, it's the city, we don't trust them."
"We realize it's a really big deal and it's a huge inconvenience," said Superintendent Dr. Gregory Hutchings. "We would not take advantage of saying, well, now this is our swing space forever. … [But] we have to make a decision, … is it worth still moving forward, even if the community said no?"
"I'm just as frustrated as you are, in terms of why it wasn't thought of earlier," said Mignon Anthony, the schools' COO.
Hutchings defended repurposing funds that would've gone to building new swing space elsewhere, saying last Thursday: "We are going to have to ask the city for more money in the future [to address rising capital costs]. But … the city is not a bottomless pit … to just keep building all of these schools and swing spaces when we call …."