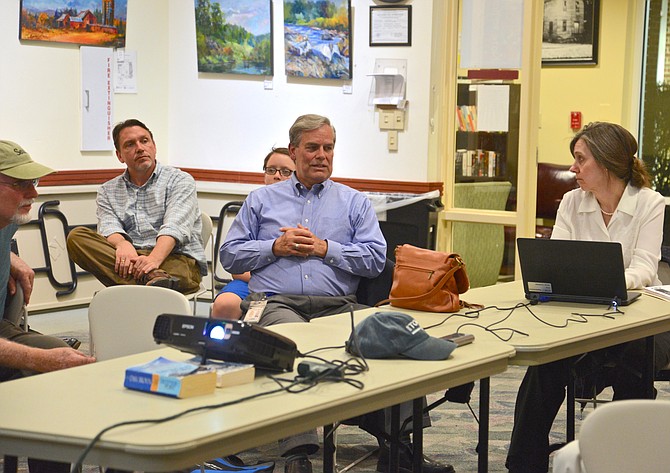 Fairfax County staff were on hand at the Environment and Parks Committee of the Great Falls Citizens Association's April meeting at the Great Falls Library.
Committee co-chairs William Denk and Karen Keegan welcomed Bruce McGranahan, Director, Site Development and Inspections Division and Camylyn Lewis, Senior Engineer III, to discuss stormwater ministration.
The officials used a case-study approach to demonstrate how the county reviews and oversees stormwater quality treatment and quantity management.
McGranahan and Lewis presented slides showing the application designs submitted by Verity Commercial and IntegraCare, partners in the project seeking to build a senior assisted living complex on Walker Road, across from Dante's Italian restaurant.
McGranahan said that using a real-life example was a better way to explain what can be "very complex," even to an audience filled with well-informed individuals, several of whom have backgrounds related to land use and environmental management. "With all of the regulations, from both the state and the county, it can be hard to satisfy all of the issues."
Lewis ran the slideshow, pointing out the changes in the developers' applications to better address stormwater runoff.
AS IT STANDS, the proposed Residences at Colvin Run have suggested an underground water treatment best management practice. The plan includes a two-step filtering process.
"This [rather than dry ponds or other stormwater mitigation systems] allows treatment of more water for quality, and more control over water release – quantity," Lewis said.
Lewis also noted that the developers were working to limit runoff to 10 percent less than if the site were to remain in its original, forested state. The underground water system also allows for landscaping and space to plant barrier trees between the complex and neighboring residences and commercial properties.
The duo from the county fielded questions a-plenty, particularly over the county's average rainfall measurement standards for stormwater works, which raised concerns among several committee members. Using a 1 inch of water standard for their calculations, when averages in the last 15 years have risen to 2.8 inches, "seems like we're working from a false premise," was one member's observation.
Lewis and McGranahan acknowledged that there was work to be done. "We are aware [of the discrepancies and need to update data], but we are still working on what to do," said Lewis. The relevant manuals are being updated by the county, and officials are working on plans to hold individual residences more accountable for water flow, as well.
Any assistance would be welcomed, stated Great Falls Citizens Association president, Bill Canis, who brought up the frequent, hazardous flooding from ponds near major roadways. "Georgetown Pike experiences these conditions in several places," Canis said. "Whose responsibility is this? Who do we go to?"
After some discussion and more consideration, McGranahan suggested that residents contact the Virginia Department of Transportation to address the roadway flooding.
Keegan was able to give the attendees an update on the recently concluded session of the Virginia General Assembly in regards to the fate of environment-related legislation of particular interest to Great Falls citizens.
"There is some good news to report," said Keegan. Legislation supported by Del. Kathleen Murphy (D-34) was passed, mandating that property sellers have to put potential buyers on notice about stormwater systems and issues on a site for sale.
"It's a good start and a win for consumer rights."
KEAGAN AND COLLEAGUES were disappointed, however, that a bill to give individual localities authority to pass their own regulations on fertilizer usage did not fare as well, getting hung up in committee in the House of Delegates.
"We learned some hard lessons," acknowledged Keegan, "a lot about the legislative process in Richmond. We have a plan for next year," she said, which includes building a collaborate coalition of experts and stakeholders to draft their own proposed legislation and then working to shepherd the measure through the political process.
"That's better than someone who doesn't know the issues or the local impact just throwing it out there."
There were updates given on the Turner Farm curator's property – "There are horses in the paddock once again there!" – and some discussion about the prospects of the Dranesville Tavern historic property on Route 7 as it has moved up a bit in the curator program queue.
The planned discussion on the environmental perspective on noise from Dulles Airport and county consideration of development in the "noise zone" was postponed, but before the meeting concluded, residents were reminded about the May 18 Town Hall meeting on wildlife management in the area, and another Town Hall planned for June 11, with state Sen. Barbara Favola (D-31) and Del. Murphy.