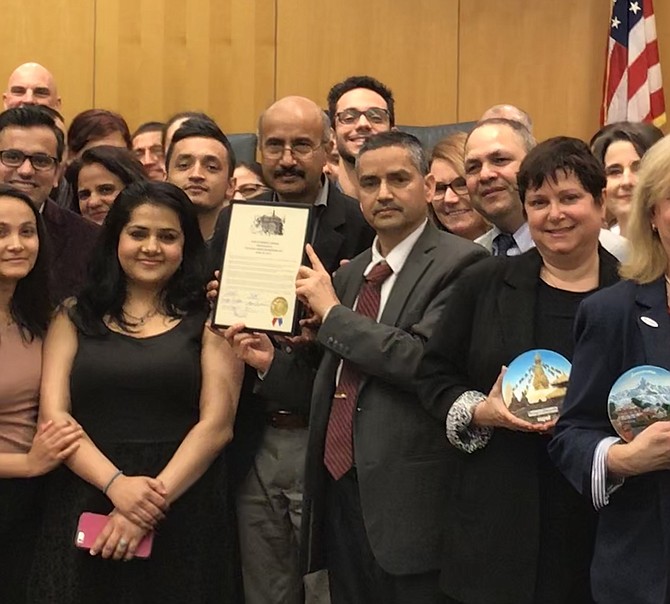 Town of Herndon Mayor Lisa C.Merkel and the Town Council made national history during the Town Council Public Session held April 9, 2019. "Herndon is the first government entity including local, state and federal to proclaim Nepalese-American Heritage Day in the United States," said Merkel.
Merkel called on Councilmember Pradip Dhakal, one of only four Nepalese Americans in elected office in the United States to read the Proclamation signed by her and all councilmembers proclaiming April 20, 2019, as Nepalese American Heritage Day and recognizing the contributions made by Americans of Nepalese origin.

Councilmember Dhakal read, "the Mayor and the Town Council of the Town of Herndon, Virginia … recognize the contributions of Americans of Nepalese origin, who through their hard work and engagement, dedication to family and strong sense of community, have helped to unite and sustain our nation, and break down barriers of discrimination, indifference, intolerance, working toward the inclusion of people from all backgrounds … and applaud their commitment to leadership, dedication to knowledge and determination to succeed."
After reading the Proclamation in its entirety, Dhakal said that he found data indicating there are 315,980 people of Nepalese origin in the United States. Also, there are 80,000 plus people who come from Bhutan. "Their heritage is Nepal; they speak Nepalese and share the same culture," he said. According to Dhakal, in Fairfax County alone, there are more than 20,000 people of Nepalese origin.
Dhakal is a first-generation immigrant and the initial thing first-generation immigrants look for, he believes, is identity. "Everybody has their identity, and they're proud," he said. Dhakal explained that when one's identity is recognized, it ultimately drives people to contribute.
"With recognition comes empowerment and with empowerment comes contribution," he said in a statement. "Nepalese American community has already started to contribute to this great nation, through many different ways of life, their professions," said Dhakal. He later added that he knew the Nepalese people would contribute a lot "to this great land of opportunity."
Dhakal thanked the Town Council for the proclamation and the great honor.
Councilmember Cesar del Aguila said, "This town is about inclusion, and it wasn't always that way ... but its spirit, the inclusion, those are values that we really hold dear."
Arjun Sigdel and Parshuram Bhandari presented thank you gifts to the Herndon Town Council on behalf of Nepalese Americans for the proclamation, recognition and honor. Aarati Sigdel said that the first Nepalese American Heritage Day celebration would be April 20, from 5-9 p.m. at Herndon Middle School.