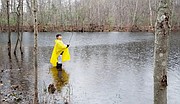 When you think of Wolf Trap Park, the first things that come to mind are concerts, accompanied by a pleasant picnic on the hillside lawn. Not everyone remembers that the key word in its name is park, but 66 young people got to experience that side of the facility at the tenth edition of the Wolf Trap First Time Campers Program, enjoying an over-nighter by special permit, in the otherwise no-camping, no campfires park.
From Friday, April 5 until the afternoon of April 6, the youngsters were joined by 55 youth and adult volunteers, who showed the camping newbies how to pitch tents, set up a camp, and cook their own meals with camp stoves and dutch ovens.
The First Time Campers outing was launched in 2014, combining the efforts of the Friends of Wolf Trap Park, Wolf Trap National Park for the Performing Arts and local Scouts BSA volunteers from Troop 55 and Venture Crew 364 of Great Falls. Twice a year, the goal is to offer local youngsters, some from Title 1 schools and lower income families, a fun-filled adventure practically in their own backyard – all while developing new skills, new friendships, and gaining a boost in self-confidence.
Gary Pan is the program's director. He also heads Troop 55 as their Scoutmaster. Pan says that the 30-plus hour event is not strictly for first-timers only. He's happy to report that several of the attendees are returning campers, having joined in one – or more – of past campouts. "They have had so much fun at previous camps, they want to come back again."
Pan may carry the title of camp director during these outings, but he is the first to tell you that it's his youth volunteers, like Langley High-schooler JP Diaz, who are the backbone of the event and who are "really in charge of the action."

Diaz has been volunteering with the first-timers for several years.
"This a great experience," said Diaz. "Most of the volunteers here spend a lot of time in the outdoors and it's really great when we can share that with these campers and give them a fun experience."
Melinda Hauda of Great Falls, another Langley student and also a veteran of the program, heads the female campers' section.
"We're all pretty tired at the end of camp," said Hauda. "But it's really worth it. I love seeing so many new faces and then a few kids who were here before because they had such a great time."
Pan feels that seeing other young people confidently running the show and keeping things on track with that famous Scout preparedness and their impressive organization skills, provides the rookie campers with relatable role models.
The mixed-generational volunteer army also guided the campers in a variety of activities. There was fishing, hiking, bird-watching, archery, a nature program, orienteering and even a backstage tour of the Filene Center.
"More than performances around here," reminded Ted Reuss, a Friends of Wolf Trap Board member and one of the organizers of the Camp Out. "There are acres of accessible outdoor resources, too."
Reuss puts his angling and outdoor knowledge to use by co-leading the campers in the fly-fishing activity along with Ryan McCarron, a volunteer from Orvis, the sporting goods, accessories and clothing retailer.
It does take a lot of help to organize and safely operate a First Time Camp. In addition to the efforts of Troop 55 and Venture Crew 364, The Friends of Wolf Trap, Wolf Trap Park and the Park Service and the Potomac Appalachian Trail Club, Pan says a shout-out is definitely due to the Great Falls Rotary Club, Orvis of Tysons, Paxton Companies, Panacea Consulting, BOWA, Meadowlark Gardens Master Gardeners and the Audubon Society of Northern Virginia.
"They not only make this adventure possible, they make it a true learning experience all while having fun."
Thinking about pitching (or learning to pitch) your tent at the next First Time Campers outing at Wolf Trap Park? It is scheduled for Oct. 4-5, 2019. Check out the website at www.firsttimecampers.org or send an inquiry to firsttimecampers@gmail.com
Scouting experience is definitely not required, nor is there any obligation to join scouting after the event.
"We just want to give some kids a great time and a great experience," is all that Pan and his troops are aiming for.