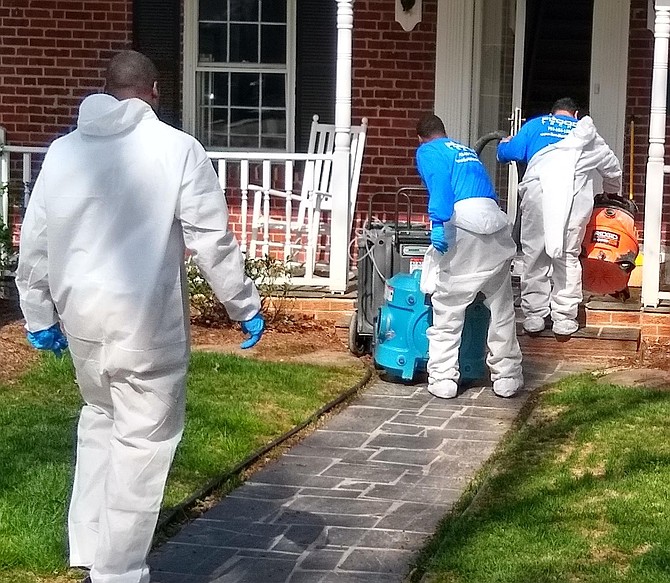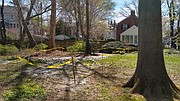 Stephen Starr says the sewer main at N. Powhatan backed up for the third or fourth time in as many years, flooding basements with sewage. When his neighbor knocked on the door Sunday night, April 7 about 7 p.m. and "asked if I had been in my basement, my heart sank because I was the one knocking on his door a year and a half ago when the sewer backed up in the same area."
Starr said, "I think we all called it in but it took the Arlington Water Department crews three hours to get here which is the difference between inches and feet." He says the first crew, which arrived with their great big pump, and high-pressure jet with super power suction got the nozzle stuck in the sewer. I guess they only have enough crews for one truck so they had to call the supervisor in to work and another crew. They were here pretty late, past midnight."
Starr said Arlington has old infrastructure, and it doesn't meet the more rigorous requirements today. He says the crew told him, "We know there is a problem in this area." Starr said, "You see your water bill is so much and you say, 'It's pretty simple to prevent. Just flush. What are we paying for? How often do they flush on a regular basis; why isn't this problem permanently fixed?'"
Starr speculates in today's world, with the availability of remotely operated vehicles that can travel the sewers, it ought to be routine to do maintenance. "They know the problem, have a record, should check once a year. It drives me crazy." Starr says this has happened another time in the three years he has been living on Powhatan Street, and once on his property on Patrick Henry.
Jeremy Hassan, chief engineer, Arlington County Department of Environmental Services, says the county has preventive maintenance on the 470 miles of sewer line in Arlington that has most of the lines on a four-year preventative maintenance. "We have a subset of trouble and grease spots, many around restaurants, that are on 3-month, 6-month or 9-month regular maintenance."
However, he says the background on Powhatan Street is that in 2001 when they had the first problem, the backup was due to roots inside the host pipe. "They were small and they grew. It is a perfect nutrient-rich place for roots to grow bigger." So at that time, the county did a trench list repair to put new material inside the host pipe, very thin but very strong. He said they find 9 out of 10 problems are in the unlined pipes. "The problem should have been solved."
In 2008 the problem occurred again, this time due to an accumulation of blockage at the bottom of the pipe. "We sent the camera down. No red flags. Just normal sanitary sludge." But when it happened again on April 7, 2019 with tree liners in place, "it was absolutely strange. It red flagged it for us." Hassan said it was an unusual configuration, which ties into 30-inch pipes. "There are two sharp 90-degree turns and there's lots of flow. It's kind of steep. We are still evaluating this for a possible hydraulic issue. It could be a possible combination of flow, slope and downhill pipe."
Starr says one of the major issues for the neighborhood is the county doesn't pay for the damage to your house. Starr says they just fix the sewer in the street; inside the house is your problem. Starr says at midnight, "We were all calling restoration companies. We woke up Monday morning to men in moon suits entering our houses to clean sewage from our basements."
Hassan says the county has a third party adjustment company, which gets all of the information and handles the claim decisions.
Starr said the restoration company had to cut out the drywall in his basement, take up the flooring, sanitize, and vacuum up all of the poop. For five hours the neighborhood sump pumps were running sewage out into the yards and a neighborhood park. "My house wasn't so bad as James' down the street. His basement is really bad."
James Riley says he has lived on N. Powhatan Street at the end of the block for 40 years, so has seen all three sewage backups. This time it affected five houses, which is more than last time. He says a neighbor alerted him on Sunday and at one point the water in his basement was 12-14 inches. "It was gurgling out of the hatch covers and sewage pump and spurting around the floor drain. Riley said, "My basement isn't finished because I lost enthusiasm after the first sewage backup right after 9/11. And after the second I said, 'I'm not going there.'"
He said most houses have a back up valve that swings open but with any back pressure it closes up and stops the flow of sewage. It's not complicated. "I had a check valve but that blew out in 2001. I got a fairly robust new one installed that got blown out in 2008. Then I went and did some serious research and bought a valve that probably goes in some chemical plant with 225 psi, pretty incredible pressure. The sewer system just blew through that."
Riley says he doesn't have any problems with the three guys who came out who were a hard working crew. "They tried their best to work things out with a water jet thing. No complaint on the service side. They seem to be good people. I know some of them by first name."
But he continued, "It's the attitude of the county. Wouldn't you think after it happened three times… They say it's your problem, not ours." Riley says the county is based on the old British system of sovereign immunity. You can't bring action against the King. You can't come after us. They left us hanging."
Hassan explains staff work from 6:30 a.m.-3 p.m. and most go home, "but we have standby staff on call 24 hours." He says when they get an emergency call like on Powhatan Street Sunday night a team gets dispatched. They get in their personal vehicle and drive to pick up a county vehicle, then drive to the site. He says since the staff live all over the D.C. area, this can take time.
He says his records show the original vehicle was on the site at N. Powhatan Street in an hour but hit a blockage and had to call in a second crew. "It took them until 11 p.m. to get the second truck. "We felt terrible hoping we could do more in the interim." Hassan says when the second staff arrived, they started to see results in 15-20 minutes and within an hour things were restored to normal.
Moving forward, "We've brought in our engineers to look at it; they already are. The verdict is still out. It could be months away, but they are looking at interim solutions and proposing putting this site on a 6-month frequency list to document and keep track."
Hassan says his overall message is to educate people on what is allowed down the pipes, especially fat and grease. He refers them to the county website: https://water.arlingtonva.us/sewer/fog/.