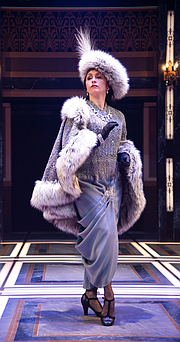 Signature Theatre is staging "Grand Hotel — The Musical" from now through May 19. It is 1928 and Berlin is at the center of a razzle-dazzle world between two wars. At the bustling Grand Hotel, a series of eclectic guests and staff including a fading ballerina, a destitute baron, a wannabe-starlet typist, and an ailing bookkeeper collide in a non-stop musical toast to the high life. It was made into a 1932 film and the show's 1989 Broadway production won five Tony Awards.
According to Artistic Director Eric Schaeffer: "I've always loved 'Grand Hotel.' It's a special show that is unique in both structure and musicality. There haven't been any productions of the musical in the area in recent years and I thought it was time to reintroduce audiences to this special piece."
He said the hardest thing about this show is that it is presented with snapshots of all the different characters and stories overlapping in the world of 1928 Berlin. "Almost all of the show is set to music and so everything has to be coordinated on every aspect of the production. It's very rewarding when you see all of the pieces come together with this terrific cast and design team," he said.
As far as audience takeaways, he added: "I hope audiences have a great time at 'Grand Hotel.' It has all the great elements of a great musical — wonderful characters, great dancing, terrific songs and an emotional journey for everyone. It's hard not to get swept up in the grand world of Berlin — you feel like you are sitting in the hotel lobby watching everything unfold before you and that's a special experience that only Signature can deliver with our intimate black box theater."
Actress Nicki Elledge plays the role of Flaemmchen, a young typist who dreams of becoming a star in Hollywood. "Her morals are tested during the story as she discovers how far she will go to get what she wants," she said.
She added: "I have never played a role like Flaemmchen, so this is an exciting challenge as an actor. I want to make sure that even with the more flirtatious, bubbly, and sensual moments Flaemmchen has during the show, the audience never loses sight of what Flaemmchen is honestly fighting for, which is ultimately money to start a new life. Finding this balance and clarity definitely took time in the rehearsal room (and I am still discovering)."
She continued: "Another beautiful challenge is that practically the whole show is underscored, so timing scenes with the music took energy and nuance. 'Grand Hotel' is a deceptively hard show to do right for a multitude of reasons, but I think we have made something stunning."
She said one of her favorite characters is Otto Kringelein, played by Bobby Smith. "Otto is terminally ill and arrives at the Grand Hotel looking for life. Even at the end of the play when things could look grim for everyone, Otto once again finds the good and proclaims, 'Life is everywhere.' This show has many serious and powerfully dark moments, but Otto's hope and acceptance of life is what I can't stop thinking about. I hope our show resonates with audiences and gets them thinking for a while too," she said.
Signature Theater is staging "Grand Hotel — The Musical" from now through May 19. Show times are Tuesdays through Saturdays at 7:30 p.m. and 8 p.m.; and Saturdays and Sundays at 2 p.m. and 7 p.m. Tickets are $65-$99. Discussion Nights are April 30 and May 8, 2019; Pride Night is May 3, 2019; Open Captioning is April 28, 2019 at 2 p.m. The venue is located at 4200 Campbell Ave., Arlington. Call the box office at 703-820-9771 or visit www.sigtheatre.org.