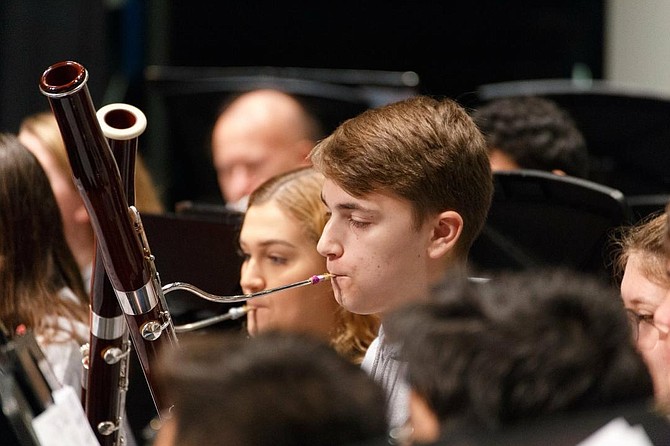 The Fairfax Symphony Orchestra (FSO) will be presenting an innovative concert featuring the 2019 Fairfax Symphony All-Stars. The All-Stars feature outstanding high school students from across Fairfax County. Each student receives personalized mentoring from FSO musicians, and the opportunity to perform side-by-side with the FSO.

In addition, honoring Chairman of the Fairfax County Board of Supervisors Sharon Bulova's long dedication and support of arts education, the FSO has named its music education program, the Fairfax Symphony All-Stars: Sharon Bulova Young Artists' Program.

The 2019 All-Stars will perform in a collaborative performance with the FSO featuring program of Holst's The Planets, Jonathan Leshnoff's Starburst, and Smetana's The Moldau under direction of FSO Maestro Christopher Zimmerman. During the concert, Chairman Bulova will conduct the encore movement of "Jupiter" from Holst's The Planets.
"I am humbled by this incredible honor," Chairman Bulova said. "The Fairfax Symphony Orchestra has always been near and dear to my heart, and is a reflection of Fairfax County's talented, hardworking and creative community. I have always been inspired by FSO's outreach to the young people in our community, and I am so excited to be a part of this year's Young Artists' Program."

"On behalf of the Fairfax Symphony Board of Directors, we can think of no better way to honor Chairman Bulova than to name this important program in recognition of her immense support and dedication to arts education," said Jonathan Kerr, Executive Director, Fairfax Symphony. "Inspiring the next generation of young artists is vital to the FSO's mission, and this program honors Chairman Bulova's lasting-legacy of furthering artistic excellence and arts education.
The 2019 Fairfax Symphony All Stars include Abigail Leary, Adam Kurtz, Aislin Carpenter, Anna Paek, Ben Afferton, Caitlyn Clingenpeel, Cole Terpenning, Ethan Grundvig, George Pekarsky, Jacob Fujioka, Justin Park, Justin Vu, Matthew Vice, Michelle Song, Nick Brenner, Olivia Bond, Owen Wetterhan, Paul Cutler Williams, Sophia Leyva and Yilun Zhou.

"I'm always impressed with the students I coach and mentor. They're always prepared and eager to learn," said FSO's Tim Wade, violinist and stage manager. "It's heartening to know that Fairfax County is so invested in its music programs. The County benefits immensely from the program, as well, as high-quality music programs are an incredible calling card to anyone searching for an excellent school system for their children and themselves."
"The FSO and our All-Stars are proud to serve as Fairfax County's dynamic music ambassadors," added Kerr.
Where and When
Fairfax Symphony Orchestra presents "Inspiring the Next Generation" featuring the 2019 Fairfax Symphony All-Stars: Sharon Bulova Young Artists at George Mason University Center for the Arts, 4400 University Drive, Fairfax. Performance on April 27 at 8 p.m. Tickets $25, $39, $53 and $65. Students: $15. Tickets call 703-9993-2782 or visit www.fairfaxsymphony.org