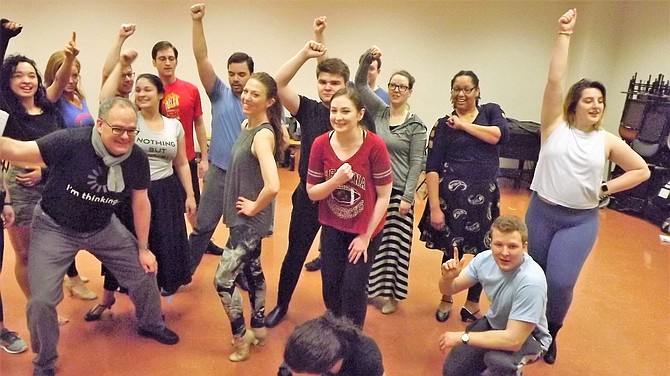 A classic case of "whodunnit?" The Kander and Ebb musical, "Curtains," follows Lt. Frank Cioffi as he tries to find the murderer who's offing cast members around a new show, "Robin Hood," in 1959 Boston. The show starts off with a bang when lead actress Jessica Crenshaw is murdered and the bodies begin to quickly pile up. Lt. Cioffi must find a way to stop the killer before it's too late. The Arlington Players (TAP) is presenting "Curtains" from April 26 to May 11.
According to Producer Barbara Esquibel: "I decided to produce 'Curtains' because the last show I produced was a very heavy play, and I felt I needed to produce a show with fun and levity. This show delivers. There is nothing serious about this show, and I think everyone needs some laughter right now."
Director Lisa Bailey said the reason they chose this play was that they decided that the community needed an opportunity to laugh and "Curtains" delivers in this department. "It also has lots of great parts for the actors and a very, very busy ensemble — everybody gets to shine," she said.
She added that it's a pretty technical show and that was a challenge as well as trying to make each character unique.
Carrie Kirby is playing the role of Georgia Hendriks, the lyricist and one-half of the writing duo who is unexpectedly thrown into the starring role of the show-within-a-show. "She is this intriguing, intelligent, fierce woman who is finally given a chance to shine in a way she never expected, and has to decide how she will respond to this sudden change in her plan, something she isn't used to encountering," she said.
She added: "Her heart gets her into trouble, but she is hardworking, quick-witted, and smart, which ultimately helps her find her happiness. I love playing her because every time I do a scene, I think I've got nailed, I discover something new and more interesting about her that makes me stop and rethink the way I'm portraying her."
She said she hopes the audience takes away two things from the production: "That even in moments of uncertainty or fear there will always be humor to help you see the light, and that finding the truth may not be simple or easy, but it is always worth it," she said.
Eric Kennedy is playing the role of Lt. Frank Cioffi, who works in the homicide division of the Greater Boston Police Department. "He's called to a theater late one evening to investigate the sudden and suspicious death of a lead actress on opening night. The case presents the perfect combination of his two passions, causing him to vacillate between police investigator and theater devotee. While he's determined to solve the case, he doesn't mind spending a little extra time getting to know his fellow theater enthusiasts (a.k.a., suspects) and soaking in the electric atmosphere of a professional musical production," he said.
He added: "Cioffi's good at his job, but finds himself incredibly distracted by his love for the stage. Finding the right balance between his two passions can be a challenge."
Shakil Azizi said the writing team of "Robin Hood" is comprised of Aaron Fox, the composer, along with his ex-wife and lyricist Georgia Hendricks. "In the process of the show, Aaron suddenly loses his writing partner and has to deal with the trauma of writing alone, and being alone," he said.
He added: "I've always been fond of piano and I got really excited when I learned I was able to play some piano on stage. With that being said, I still get nerves and it's an element of performance I still will continue to work on even after the show."
Maura Lacey plays the role of Niki Harris, a sweet, dedicated actress who has worked in the chorus most of her career but dreams of getting to Broadway. "While most of the cast begrudges having to work on a show that is below their pay grade, Niki is just thrilled for the chance to be there and be a part of a show that's heading to the Big Apple. She's proper and polite, and tries to help with the investigation where she can. Along the way, she develops a charming attachment to the detective and ends up falling for him," she said.
She said that remembering the correct lyrics with the correct song has been a bit of a challenge for her. "Kander and Ebb (same writers as "Chicago" and "Cabaret") have created such an enjoyable libretto for the show, but since a few of the songs have several different variations throughout the show, remembering the correct lyrics and notes (not to mention the choreography) for the correct version is a bit of a challenge," she said.
The Arlington Players (TAP) is presenting "Curtains" from April 26 to May 11. Show times are Fridays and Saturdays at 8 p.m.; and Sundays at 2:30 p.m. Tickets are $15 to $25. The venue is located at Thomas Jefferson Community Theater, 125 S Old Glebe Road, Arlington. Visit www.thearlingtonplayers.org.