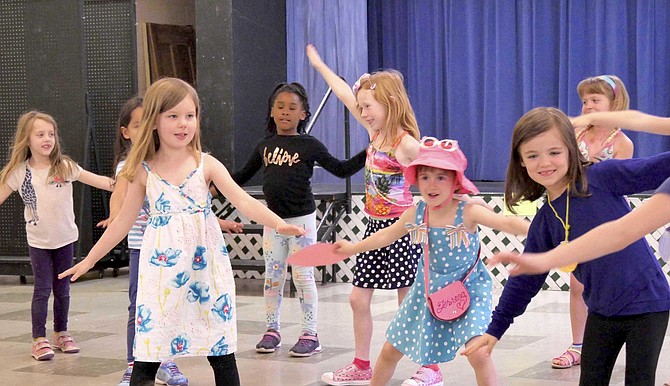 Encore Spring Camp K-2 grade students showed off their surfing skills on Wednesday, April 17 at the end of the day for their audience of parents and friends. The day's theme was "Surf's Up," and they had been practicing their arm movements (1-2-3) and dance steps until one of them commented, "my feet just won't move anymore." The older children from grades 3-5 also presented a short play.
Encore, "a theatre by kids for kids," held spring break camp to coincide with spring break for public school students April 15-19 from 9 a.m. to 3 p.m. with such themes as Peter Pan and Aladdin and will hold camp for private school students from April 22-26 with such themes as Pinocchio, Trolls and Cars. Encore's main campus is located in the lower level of St. Andrew's Episcopal Church at 4000 Lorcom Lane in Arlington.
Encore was founded in 1967 to build a lifelong appreciation of the theatre by involving children in all aspects of theatre arts, both onstage and backstage. Its world premiere of the upcoming production of "The Talented Clementine" will be held in conjunction with Kid Pan Alley at Gunston's Theatre One at 2700 S. Lang St. on Fridays May 31 and June 7 at 7:30 p.m., Saturdays June 1 and June 8 at 11 a.m. and 3 p.m. and Sundays June 2 and 9 at 3 p.m.
In "The Talented Clementine," Clementine gets nervous when her third grade teacher announces a talent show to raise funds for the spring trip. But Clementine can't sing or dance or play an instrument like her friend Margaret. What will she do?