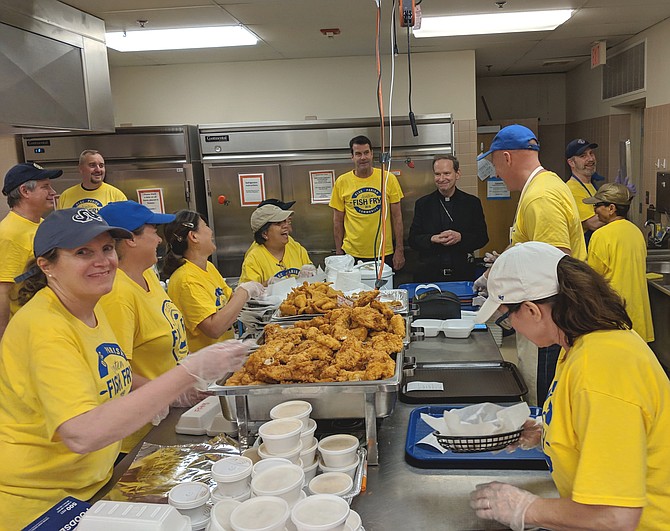 Bishop Michael Burbidge joined a packed DeSales Hall on Friday, April 12 for Our Lady of Good Counsel's (OLGC) last Fish Fry of the Lenten season. Bishop Burbidge joined Pastor Father Matt Hillyard, OSFS, Parochial Vicar Father John Dolan, OSFS, and parishioners to enjoy a delicious meal prepared by volunteers. The strong community spirit and the delicious food impressed the Bishop at the Fish Fry. He met with parishioners and volunteers before he led OLGC's Stations of the Cross in the Church.
What started as a simple vision from two Pittsburgh transplants—Russ Weaver and Chris Collins—three years ago continues to blossom. Weaver and Collins joined together with Nick Lopes, Scott Kelley, and Andrew Zaso to make up a team known as the "Fish Fry Guys." This team and their families have done an outstanding job bringing the community together, engaging a diverse group of volunteers by tapping into parishioners' given and hidden talents. Father Hillyard and Father Dolan both supported and volunteered at the event throughout the season.
Parishioners, youth, family, and friends came together to prepare 2,400 pounds of Alaskan cod, 540 pounds of shrimp, and 29 gallons of oysters that were fried or baked over the six weeks. Weekly the volunteers turned 450 pounds of potatoes into homemade hand-cut fries, in addition to making coleslaw, rice and beans, mac & cheese, tartar, rémoulade, and cocktail sauces — all from scratch. Countless volunteers, including OLGC school students, donated homemade desserts to top things off. Despite Mother Nature's tenacity which included snow, hail, and rain, participation was great.
OLGC's fourth annual Fish Fry will kick-off on Friday, Feb. 28, 2020. For more information, contact OLGCFishFry@gmail.com.