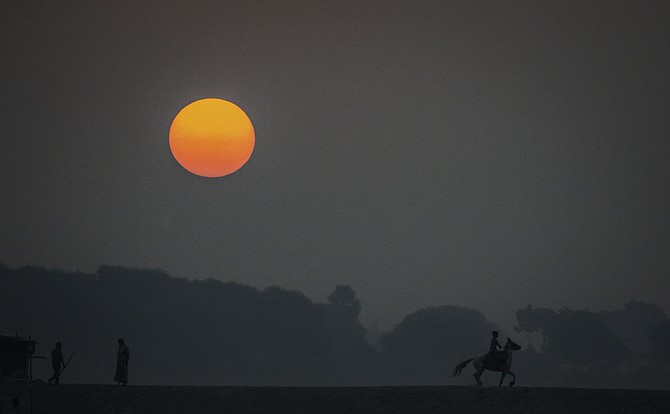 Arches Gallery at the Workhouse Arts Center has announced April's People's Choice Award: Rick Reda's photograph "Rider at Sunrise." This moody image is on view in Reda's current exhibit of travel photography, "Mystical India," through May 5th. Reda is this month's Featured Artist at Arches Gallery.
"Rider at Sunrise" was taken on the eastern shore of the Ganges River in Varanasi, India at sunrise. Varanasi is a city of religious significance to the people of India, and the site of ongoing cremation ceremonies, which is part of the reason for the hazy morning sky. In spite of this, many people are present at sunrise to greet the day.
Reda specializes in landscape and wildlife photography and has traveled the world from Alaska to Antarctica to Africa. He started out more than 40 years ago with a makeshift darkroom set up in the bathroom of his apartment in Detroit, developing and producing color prints. Within a few short years, his photographs were on display in the Trimpe Gallery in Detroit. Over the years he has transitioned from film to digital photography and currently exhibits his work at the Arches Gallery and the Loft Gallery, in Occoquan, Va. His work is in several private collections across the United States and Europe. To see more of Reda's work, visit rickredaphotos.com.
Visit Arches Gallery on the campus of the Workhouse Arts Center until May 5 to see "Mystical India," and the work of 21 other Workhouse Artists in monthly Group Show. Find out more about Arches Gallery at https://archesgallery.weebly.com/ and on Facebook at "Arches Gallery Artists."

Arches Gallery is located at Workhouse Arts Center, 9518 Workhouse Rd., Lorton. Gallery hours: Wednesdays – Saturdays 11 a.m.-6 p.m., Sundays 12 noon- 5 p.m.