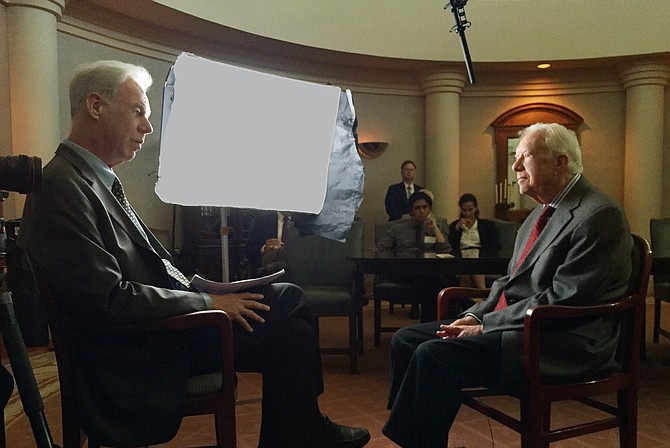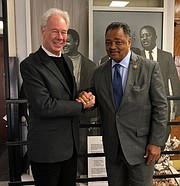 No one in the world can succeed alone — not even heroes like Dr. Martin Luther King, Jr. One critical member of this legendary figure's team was Howard Thurman — a chaplain and "spiritual mentor not only to Dr. King, but to the entire Civil Rights Movement," in the words of documentary filmmaker Martin Doblmeier.
This year, Doblmeier's Alexandria-based production company, Journey Films, released "Backs Against the Wall: The Howard Thurman Story" — a documentary that chronicles Thurman's life. The Public Broadcasting Service (PBS) began airing the documentary in February, and currently Journey Films is hosting screenings in cities across the United States.
"Individual stations will continue to broadcast the film for the next two years, so, in the end, there will likely be several thousand broadcasts of the documentary nationwide," said Doblmeier, who directed the film. "I'm also doing about two dozen special screening events nationwide where I show the film and engage the audience in conversation over the key themes. People are coming out to screenings in large numbers and we are really quite pleased about it all."
He added that there were two different screenings in Alexandria, one at the end of March at the Historic Christ Church, and one earlier this month at the Virginia Theological Seminary.
No matter where audiences see "Backs Against the Wall," it's likely that they come away with a new perspective of the Civil Rights Movement.
"Through Thurman's remarkable story, we see that while the Civil Rights Movement was a political and social movement, it was at its core a spiritual movement," Doblmeier said. "Thurman was the first African American invited to India to consult with Gandhi. When he returned from India, he began to infuse the notion of non-violent resistance into what would become the Civil Rights Movement. Thurman was quietly behind the scenes of one of the greatest social transformations in history."
However, with the help of some modern-day history makers, Journey Films has made sure that Thurman is no longer quite so hidden behind the scenes of American history.
"We knew it was important to include some of the leading Civil Rights figures and we were fortunate to have in the film Jesse Jackson, Congressman John Lewis, Vernon Jordan, Otis Moss, Jr., and others," Doblmeier said. "Interviewing them, it was clear how important Howard Thurman was to them personally. It is striking the critical role that Thurman played in the success of the overall Civil Rights Movement. But, if you read the history books about the Movement rarely is Thurman's name mentioned. That's because he was satisfied to play a more private role as the Movement's spiritual mentor."
Production started in 2017, but Howard Thurman has long been Journey Films's radar.
"I believe Walter Earl Fluker, theologian at Boston University who is in the film, suggested Thurman to Martin several years ago as a great, and as yet uncovered, film subject," Journey Films producer Deryl Davis said. "I had encountered Thurman a few years earlier while teaching at Wesley Theological Seminary in D.C. I also had the chance to teach Thurman to students of religion at the University of Glasgow in Scotland several years ago."
The more these documentarians learned about Thurman, the more important it became for them to capture his life in one of their films.
"When these remaining Civil Rights icons are no longer with us to testify to the importance of Thurman's role, his name could well be lost to history," Doblmeier said. "That is why we hope through the film to help highlight Thurman's role in the American imagination for this generation."
Ever since Doblmeier established Journey Films in the mid-1980s, the company has produced 33 films that focus on topics of faith and spirituality.
"People often identify me first as a filmmaker, but I prefer to think of myself as someone who is endlessly curious about religion and how people respond to their understanding of God," Doblmeier said. "I have degrees in religious studies, and the vehicle that I use to explore those questions is through filmmaking. When I began Journey Films I remember people telling me that if I limited myself to only making films on topics of religion, faith and spirituality I would run out of ideas in six months. Here we are more, more than 30 years and 30 films late, and there's still no shortage of ideas."
The Journey Films team creates every film from start to finish — from the brainstorming to the business side of movie making.
"We come up with the ideas for most of the films, and fundraise in order to get them into production," Doblmeier said. "Then we do the research — which is always extensive. We do the on-location filming, followed by scripting and editing and final mastering. We not only handle the full production, but we then work to get the film widely seen. If it sounds exhausting, it's because it is. These kinds of films have a longer arc. For each one, I'll do about 30 events around the country to spread greater awareness for what's going on. It's my life, and going out and sharing it is what we do."
Their efforts don't go unnoticed.
"It's rewarding," Doblmeier said. "We are fortunate enough to have won two regional Emmy Awards, and more than a dozen other awards."
This team of filmmakers is careful to present subject matter in a compelling, respectful way. "Religion can be an incredibly challenging field because people are very passionate about their beliefs," Doblmeier said. "Every sentence you write needs to be carefully considered and thoughtfully expressed. But, hopefully because of our experience and background, we can delve into difficult material in a way so that it satisfies the appetite and imagination of an educated public television audience."
The brains behind Journey Films understand the responsibility they have with the type of cinematography they produce.
"We think of the work we do as exploration," Doblmeier said. "That is the root of why we call ourselves Journey Films. I think telling stories about how people view God, or the divine, and how that inspires them to act is endlessly fascinating. It is fascinating in large part because with each film we find ourselves confronting the great — almost unanswerable — questions of life."
It's fitting that a large part of Howard Thurman's life was also exploring answers to these questions.
"Thurman was a gifted writer but the eloquence of his prose should not distract from how he could be brutally honest when it came to identifying the failures of churches to live up to their own creeds," Doblmeier said. "Thurman was critical of the Christian churches for not doing their part to create congregations where people of all races could feel at home. My hope is that people will see the film and take those challenges seriously."
Despite that Thurman lived and thrived in a different era, Davis also insists that the Civil Rights Movement visionary and his life's work remain relevant.
"The best part of this documentary for me was the opportunity to introduce Thurman in all his fullness to a new audience and, hopefully, expand his legacy," Davis said. "He's an important figure whom more people need to know, and he's a figure who really speaks to where we are now as a nation. He wants to call everyone together, to recognize our common humanity as a starting place. Community was the most important thing to Thurman, and it's something we need to recapture today."
To learn more about "Backs Against the Wall: The Howard Thurman Story" and about Journey Films, visit www.journeyfilms.com.