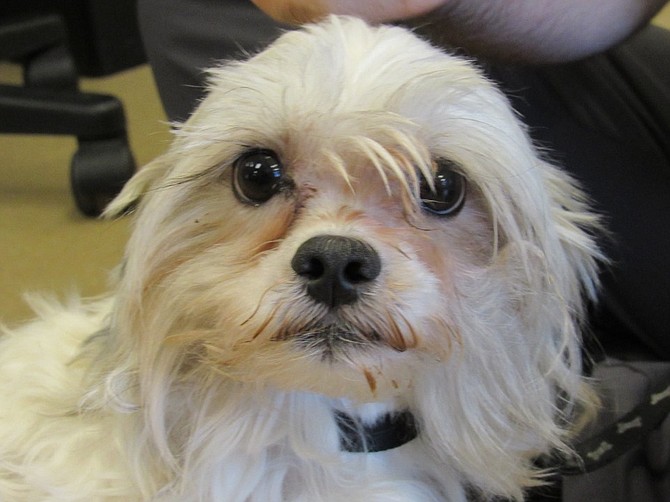 MCPAW (Montgomery County Partners for Animal Well-Being) is the dedicated non-profit fundraising partner for the Montgomery County Animal Services & Adoption Center (MCASAC). We help educate, advocate, and take action on the healthy treatment and well-being of animals inside and outside MCASAC. MCPAW has several programs which benefit the animals, their adopters, and the community:
Veterinary Medical Fund which pays for emergency treatment of MCASAC pets;
Free pet food pantry;
Loyal Companions grant program for special needs pets;
Enrichment program for MCASAC pets;
Amber/Purple Care program which waives adoption fees for older/special needs pets;
Spay It Forward program which funds TNR (trap/neuter/return) of community cats.
All of these programs require funding. To donate, see http://www.mcpaw.org/take-action-1
For more, check in on their Facebook page at www.facebook.com/MCPAW/
Third Annual MCPAW Party
Another way to help support MCPAW is to attend the 3rd Annual MCPAW Party: Animal House - an upscale, rockin' 60s frat-style party benefiting animals in Montgomery County. Join us for an Animal House themed party to raise money for the lost, homeless, and abused animals in Montgomery County. Featuring live entertainment by Jr. Cline and the Recliners; BBQ; raw bar; tons of fresh veggies, sides & more; live & silent auctions; vintage 60s cars. Plan to bring your family, your friends and … your party animal dogs to the Bolger Center, Potomac, MD, the evening of Oct. 5th.
Dress is casual or with the Animal House theme, four-legged friends are welcome.
Saturday, Oct. 5, 2019, 6 p.m. – 10 p.m.
William F. Bolger Center, 9600 Newbridge Drive, Potomac, MD 20854
For tickets, http://www.mcpaw.org/
www.eventbrite.com/e/the-3rd-annual-mcpaw-party-animal-house-tickets-64177076363
Adopt!
MCASAC always has wonderful pets of all kinds available for adoption. Here are just two of many: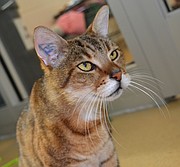 Uli the Cat
I'm a cool 11-year-old Bengal cat who loves to spend my days chasing crinkly toys, balls, bells, and fake mice. The humans here at MCASA describe me as playful, friendly, active, and affectionate. I like being petted and brushed, and I'll prove it by making the loudest purrs you've ever heard!
One fun fact about me is that I worked with the scientists at UPenn vet school. They looked at me and learned how to do surgery, so that they can learn more about my species, and make other cats like myself healthy again. I think that means that I'm an honorary doctor cat. How many people can say their cat went to college? All that, AND my adoption fee is waived. It doesn't get better than that.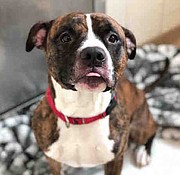 Jarvis the Dog
I'm an affectionate, exuberant 2-year-old boy. I love to play fetch, go on hikes, or go jogging with you. I'm very fond of back and side rubs. I know sit, high-five, give kisses and would love to learn more with you. They say I'm an athletic, high-energy young dog and will need an appropriate amount of exercise (and would love to have a fenced yard). They say I'm very smart and open and eager to learn, and truly want to please my people.
I was found as a stray in October 2018 and have been at MCASAC ever since. I'm really ready to find my forever home with a family that will spoil me! Thanks to MCPAW, my adoption fee is waived.
In addition to numerous dogs and cats, the adoption center has rabbits, guinea pigs, mice, birds, chickens, and more. For more adoptable animals of all kinds, visit the Montgomery County Animal Services & Adoption Center https://www.montgomerycountymd.gov/animalservices/ or on Facebook www.facebook.com/mcasac/
7315 Muncaster Mill Rd.
Derwood, MD 20855
240-773-5900
Purple Care for Cats
Senior cats have waived adoption fees all year long.
Cats 8 years of age and older are part of our Purple Care program which means their adoption fees are waived to encourage adoption of older cats.
These middle-aged and elderly cats have lost their homes late in life, and deserve to spend the rest of their years in comfort. These cats deserve their forever homes!
These oldies but goodies have lots of personality, love attention and are still active - they will bat around a mouse toy and chirp at birds just like a younger kitty. Older cats are less likely to destroy your furniture, and more likely to want to cuddle up to you while you watch your favorite shows. Come adopt a senior kitty today.
MCPAW Helps Animals Needing Expensive Medical Care
Cindy Clawford is a stunning, playful little lady cat who found herself back at MCASAC after her adopters could no longer afford to keep having the adenoma on her face removed. It is a benign tumor that has come back at least twice and will keep growing. If it is not completely removed, it could result in the loss of her eye. MCPAW found out about Cindy's plight and wants to get her to a specialist ASAP. Veterinary specialists are expensive, but MCPAW believes in the value of every life. Our Veterinary Medical Fund has been taxed to the max already this year with all of the dogs with broken legs we have funded. But we cannot say no. Please consider donating for this precious cat.http://www.mcpaw.org/take-action-1
MCPAW's Veterinary Medical Fund has paid for the surgeries of multiple dogs with broken legs, and these expenses have depleted our reserves. Poor little Sherlock, a 2-year-old Bichon Frise mix, was attacked by another dog, and had a badly broken leg. His owners could not afford his medical care, so they surrendered him to MCASAC.
MCPAW has made a pledge to MCASAC that no animal in need will go without care. And who can say no to this face?! Donate online atwww.mcpaw.org/take-action-1
June 7, Sherlock had the surgery on his leg and is recovering well but MCPAW still needed $900 to reach its goal. The entire recovery phase spanned 8-12 weeks assuming no complications or setbacks.
Sherlock, a sweet pup who came in with a badly broken leg, got adopted. Thanks to MCPAW he had successful surgery and is ready to move on to the next chapter.
In March, Lexi, a 10-month-old German Shepherd mix came to MCASAC as a stray and she had a very nasty break to her hind leg. The veterinarians at MCASAC were hoping that it could be repaired but knew that her leg might need to be amputated. MCPAW approved payment for her surgery, no matter what it might entail or the cost. A young girl like Lexi can recover and have a long life in front of her. We are dedicated to make that happen for her.
Lexi's leg was too damaged to repair so it needed to be amputated, But she has adjusted well. Lexi was adopted in April. Thanks to MCPAW supporters for helping with her surgery, she will have a happy new life.
As if these dogs coming into Montgomery County Animal Services & Adoption Center in a few months with broken legs wasn't enough, we were faced with yet another one. MCASAC's medical director called MCPAW with an emergency situation. A young hound/pit mix had been brought in with a severely mangled leg. He was a stray, found near the railroad tracks.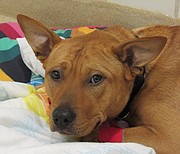 MCASAC named him Ballard. We can only imagine the horrors that this poor dog had been through. Ballard needed immediate surgery. He was in a great deal of pain and time was of the essence. MCASAC contacted all of their regular veterinary hospitals who can perform this kind of specialized surgery and none of them could take Ballard. They found a specialist in Annapolis who could do it but Ballard needed to get there in two hours! MCPAW agreed to fund the very expensive surgery and had to place a large deposit on it - $3500 - before the surgery could be performed. As you may know, MCPAW never says no to an animal in need.
But now we need to raise the money to help pay for it. MCPAW's Veterinary Medical Fund has already been stressed to the max.
Please consider a donation to the Veterinary Medical Fund so that we can help more pets like Ballard. We hear that he did well in the surgery and was even putting weight on the leg. But recovery will take a while. www.mcpaw.org/take-action-1