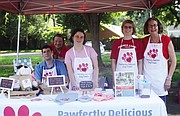 If you ever thought you couldn't help man and man's best friend with one purchase, you're wrong. Pawfectly Delicious Dog Treats, a 2-year-old nonprofit native to the Mount Vernon area, sells canine snacks made by young adults with special needs and teaches job skills in the process.
Pawfectly Delicious began when Mount Vernon resident Anne Tuccillo noticed a lack of employment opportunities for her son, Bryan, after he aged out of state services for disability. Taking matters into her own hands, Tuccillo decided she would create a job for her son. After noticing dogs eating a friend's ginger Christmas ornaments off the tree, Tuccillo was inspired to teach Bryan and a few other young adults with similar disabilities to make and sell ginger dog treats.
"There is a great need for employment for young adults between the ages of 18 and 30 with disabilities," said Charlie Flynt, executive director of Pawfectly Delicious Dog Treats, and Bryan's attendant, "After they graduate high school they can participate in a swim team in the summer and a few other small things, but besides that there isn't much to do. We've always found staffing to be easy for that reason."
While managing Pawfectly Delicious from the Tuccillo kitchen was ideal in the beginning, the budding nonprofit's growing number of employees soon made it necessary to partner with Pulley Vocational Career Center (a job-training program for students with disabilities) and St. Luke's Episcopal Church. Now, Pulley students are making the dough employees at Pawfectly Delicious use to make treats in St. Luke's industrial-sized kitchen.
The company has also partnered with local businesses such as Nature's Nibbles, Head to Tail Spa, and Whole Dogz and PawsGo to sell their delicacies.
"We couldn't do what we do without making connections in the Mount Vernon area," Flynt said. "It gives us the help we need but also gives our employees a sense of purpose, pride and belonging in their community."
Most employees at Pawfectly Delicious work in the kitchen two days a week and sell at St. Luke's famer's market on Saturdays. While the young workers are encouraged to use the cookie cutters independently, supervisors employ a hand-over-hand method to guide the cookie cutters of those with less manual dexterity. In this way, even employees with extreme need can take pride in their work.
For others who require less hands-on supervision, the social training that comes with working at Pawfectly Delicious is more beneficial.
"We're teaching them to manage the conflicts and minor catastrophes that would come up in a more serious work environment," Flynt said. "Like, what happens if you drop an entire tray of cookies? They won't get in trouble here, we just show them how to deal with it."
Neil Dawes, an employee at Pawfectly Delicious who has been responsible for putting together treat bags for almost a year, said his work for the nonprofit has helped him overcome some of the social anxiety he experiences because of his autism.
"I'm proud that working here has made me work more efficiently and also build relationships with my coworkers," Dawes said. "That was one challenge I had to overcome to work here — getting to know everybody. It takes me a while to open up to people. But now I have a lot of good friends here."
Dawes is not the only one who has changed through this opportunity. Joey Cahill, a non-verbal autistic employee, found it hard to find a job because of his lack of social ability. Since working at Pawfectly Delicious, where his affinity for art is channeled into cutting out dog treats, he is becoming more vocal and has generated creative ideas, such as suggesting the employees wear chef's hats.

"Giving these kids pride in a job well done is the most important thing for us," Flynt said. "For most of these young people, a single, quiet purpose is like heaven. Just to put the treats in a bag, close it, be able to say 'I made that' and sell it to someone means so much to them."
Flynt said the nonprofit hopes to expand in the future to both help more unemployed youths with disabilities and spread awareness of the problem.
"It gives locals a good product along with a way to interact with and help these young people who want so much to belong," Flynt said. "We are not just helping people with disabilities. We believe we are helping the whole community."
For purchases, donations and employment inquiries, visit Pawfectly Delicious' table at St. Luke's Episcopal Church Farmer's Market (Saturdays, 8 a.m.-12 p.m., 8009 Fort Hunt Road) or visit https://www.pawfectlydelicious.org.