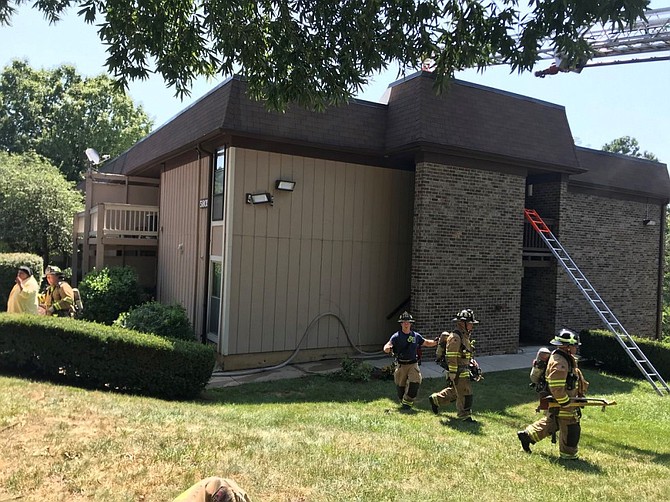 On Thursday, July 25 at 10:51 a.m., units were dispatched for a reported garden apartment fire in the 5800 block of Royal Ridge Drive in the West Springfield area of Fairfax County.
Units arrived on scene of a three-story, garden apartment building with smoke showing from the rear and one occupant trapped on a third-floor balcony. Crews quickly placed a ladder to the balcony and climbed up to occupant. Due to the significant steep grade, the occupant was protected in place until such conditions allowed for an internal evacuation through the unit and down the stairwell. There were no firefighter injuries reported. One occupant was transported to an area hospital for a check-up.
Two occupants were home at the time of the fire. The fire was discovered by an occupant prior to the smoke alarm sounding. One occupant self-evacuated prior to fire department arrival. The second occupant evacuated to the balcony
Fire Investigators determined that the fire was accidental in nature and started in the kitchen. The fire was caused by an unattended cooking pot on the stove.
No one was displaced because of the fire. Red Cross services were not needed. Damages as a result of the fire were approximately $6,250.
Fairfax County Fire and Rescue would also like to remind all residents about cooking safely. Please remember to "Watch What You Heat!"