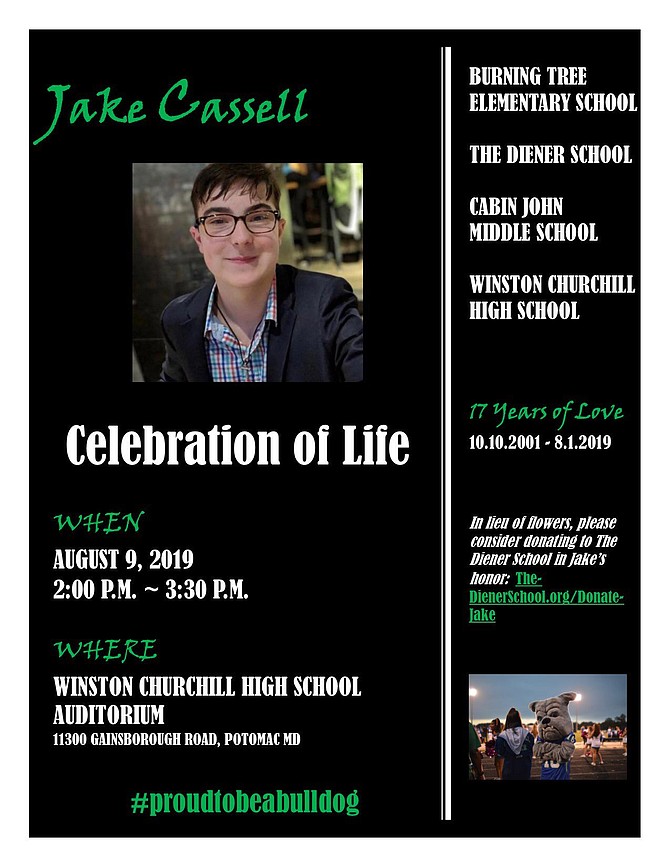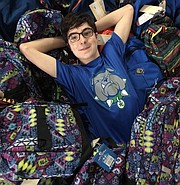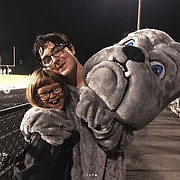 The death last week of Winston Churchill High School student Jacob (Jake) Cassell in a bicycle accident has community members sharing their grief and their happy memories of a young man who was a light in their lives.
On Thursday, August 1, Winston Churchill High School principal Brandice Heckert posted this note to Churchill families and staff on the school's website:
"I am writing to share some devastating news with you this morning. It is with a heavy heart that I share with you that one of our students, Jake Cassell, has passed away. Jake was involved in a bike accident yesterday and succumbed to his injuries this morning.
"Jake, a rising junior, was the spirit in our building and community. This past year he was at almost every event as our mascot, and he was proud to be a Bulldog. He will be greatly missed. Keep the Cassell family in your thoughts."
Montgomery County Police said that police and Fire and Rescue responded to the accident on Old Georgetown Road.
"Detectives from the Montgomery County Department of Police – Collision Reconstruction Unit (CRU) are investigating a fatal bicycle-involved collision that occurred yesterday in Bethesda." According to police reports,
"on Wednesday, July 31, at approximately 4:52 p.m., 2nd District officers and Fire and Rescue personnel responded to the intersection of Old Georgetown Road and Beech Avenue for the report of a serious collision involving a bicyclist and a vehicle.
"Preliminary investigation has revealed that the bicyclist was traveling south on the southbound sidewalk of Old Georgetown Road (approaching Beech Avenue) when he fell from the sidewalk and into the roadway. The bicyclist was then struck by a 2018 Volkswagen Atlas that was traveling southbound Old Georgetown Road. The driver stopped and remained at the scene.
The bicyclist, identified as Jacob Cassell, age 17, of Wyngate Drive in Bethesda, was transported to a local hospital with life-threatening injuries. He succumbed to his injuries early [the next] morning [Aug. 1].
"The driver of the Volkswagen, … age 39, of Kentstone Drive in Bethesda, was uninjured.
"The circumstances surrounding this collision remain under investigation. "Investigators are asking anyone who witnessed this fatal collision to contact the Collision Reconstruction Unit at 240-773- 6620. Callers may remain anonymous."
Jake was a Churchill Bulldog in more ways than one. He was the student mascot, and dressed as a bulldog at school events last year.
"The Bulldog embodies the true dynamism and attitude of Churchill High School," Bruce Adelson, Churchill PTSA President from 2017-2019. "As the Bulldog, Jake was an energetic and creative exemplar of Winston Churchill High School's indomitable spirit and indomitable students. He will be sorely missed. We mourn for Jake with his family and friends."
Adelson called Jake's death a terrible tragedy.
"Jake's verve and personal magnetism were infectious," Adelson said. "Jake made a lasting impression on all who knew him. I certainly smiled and applauded as I watched Jake's wonderful performances as the Churchill Bulldog. He truly touched all who had the pleasure of his company."
The Churchill booster club posted: "The WCHS Booster Club sends its most sincere and heartfelt condolences to the Cassell family. We will deeply miss Jake's presence at our games, events, on our campus and in our community. He set and example for everyone with his kindness, enthusiasm, commitment and humor. His memory is a blessing to all of us at WCHS. Our hearts are broken."
From Churchill athletics: This is an enormous loss for the Cassell family, our community and anyone who has ever come in contact with Jake. His smile and heart were bigger than his Bulldog costume could ever contain. Our hearts are shattered losing this amazing young man."
Friends from the Churchill community and all of Montgomery County Public Schools posted condolences on the school's Twitter feed. Among them are these few:
WCHS Social Studies and Allied Softball will miss Jake's kindness and passion for our school and community. Our thoughts are with Jake and the Cassell family.
Council Member Andrew Friedson, who represents the Potomac area, and graduated from Churchill said: "Heartbreaking. From all accounts, Jake had an incredible personality and was a joy to be around. An enormous loss. My deepest sympathies to Jake's family and the entire Churchill High School community."
There were notes of sympathy from MCPS principals and other educators. Beth F. Thomas, assistant principal at Hallie Wells Middle School in Clarksburg, wrote:
"So very sorry for Churchill's community's loss of Jake. May the happy memories of Jake help through these difficult times. Once a Bulldog always a Bulldog."
From Churchill lacrosse: "Our day always got better when we saw Jake's huge smile! He loved wearing the bulldog mascot and was so energetic and supportive of all the teams at Winston Churchill HS! He will be sorely missed! Thoughts and prayers to the Cassell family and the entire WCHS community!"
From Churchill's Bocce Team: "Our hearts are broken because we lost our beloved Jake Cassell. His smile was contagious and he always had joy when helping others. On behalf of the Bocce team, our thoughts and prayers go out to Jake's family and friends."
Concerns about bicycling safety, separated bike lanes and complications along Old Georgetown Road have also been discussed.
Councilmember Hans Reimer said he had biked that section of road. "I am also upset about this tragedy. I know it is dangerous. I once rode from soccerplex to DTSS and I found that stretch to be the worst of the journey. I asked staff about solutions. It is a state road though. We need to take action with the state."
Del. Marc Korman said he had contacted officials at Maryland State Highway, and there will be a meeting soon to discuss safety there. In that section, and many other roads, there is no shoulder and no bike lane. Jake was on a narrow section of sidewalk.
A Celebration of Life in honor of Jake (10/10/2001-8/1/2019) will be from 2-3:30 p.m., Friday, Aug. 9 in the Winston Churchill High School Auditorium, 11300 Gainsborough Road, Potomac.
In lieu of flowers, the family is asking for donations to The Diener School (https://thedienerschool.org/Donate-Jake/)