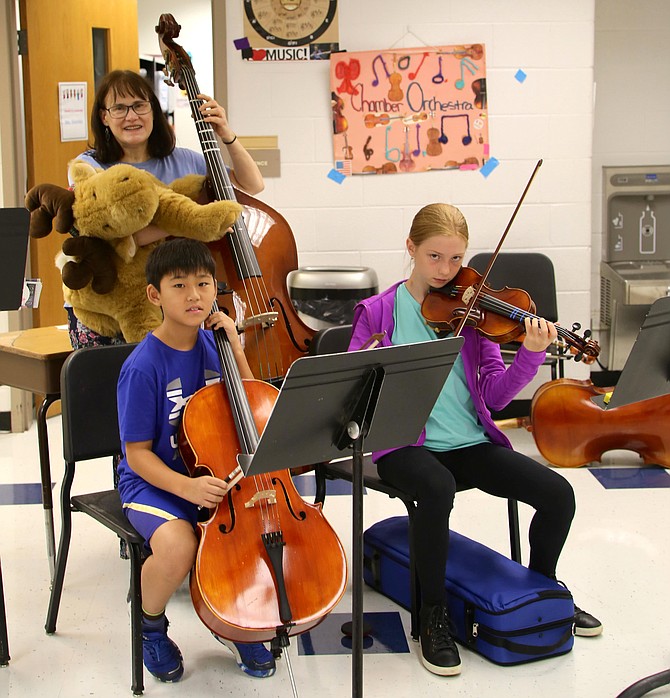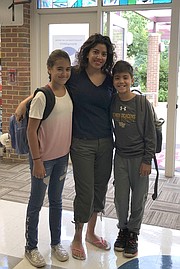 Happy kids, excited parents, and smiling teachers are crowded at the school entrance on Monday, Aug. 26. Principal Sarah Aiello and administrative staff greet everyone at the doorway. Counselor Dona Sasala helps children to get to their classes. The festive atmosphere is everywhere.

"Emma, sweetie, let's do it one more time," mom asks her 7-year-old daughter to smile to the camera. Emma is smiling hastily; her friends are already waiting for her in the hallway. The girl gives a hug to her mom and runs off.
Fizzah Gocke is happy to be here with her daughter Gigi. Gigi is in sixth grade, her final year in elementary school. Gocke shares that Spring Hill Elementary School holds a special place in her and Gigi's hearts.
"Spring Hill has been a wonderful Elementary School for all three of my children," Gocke said. "The faculty and staff are just so dedicated to the students. The kids have such a great multicultural environment, and they have friends from all kinds of backgrounds. They get immersed and make great friendships, and I can probably believe that happens in a lot of schools. However, Spring Hill has been distinct from their academic rigor, from the dedication of their staff and the children's and real bond to the school."
For sixth-graders, the school day begins with a music class. The kids are all ears enjoying the talk about the musical instruments. Ruth Donahue, a music teacher, is preparing a school string orchestra for a performance. Violinist Jolie Korfonta and cellist Daniel Kim will open the school year with a strings concert.
At the cafeteria, the PTA organizes welcoming coffee and donuts for parents. They truly enjoy meeting each other while the kids are in the classrooms. Four moms with cups of coffee are discussing something. They look like four main characters from the famous TV show Big Little Lies.
"I think Spring Hill Elementary is more than a school. It's a community," Jennifer McCarthy, mom of third-grader, says, "It is good friendships, not just for the kids, but the families that get involved and support this school. My daughter studies here from kindergarten. This is her network, her community, and her friends."
Everything is getting quiet and slowing down. The staff greets the kids from the last school bus.

"Our morning was amazing," Principal Sarah Aiello beams. "Our teachers are excited, kids came in with smiling faces, our families look happy. They were ready for school. Everything was organized. Kids got to class in a timely manner. It was great."
Spring Hill Elementary School is one of the largest in the area with about a thousand students enrolled this year.
"We are a large school, but we have a very small school family feel," Principal Aiello smiles. "That's really important to us".