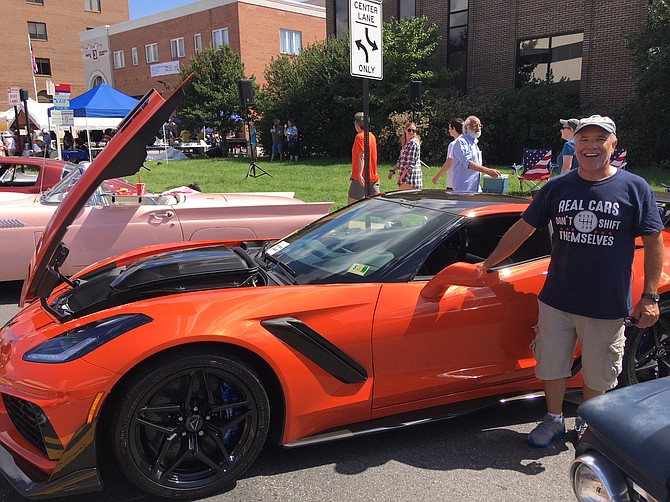 Cool cars on a hot day – that's Labor Day in Fairfax City, when the City and the Clifton Lions Club present the 20th Annual Labor Day Car Show. And this year, it's on Monday, Sept. 2, from 8 a.m.-3 p.m., along University Drive and in the SunTrust Bank parking lot at 4020 University Drive.
"I can't say enough about the City of Fairfax for the way they stepped up and helped out," said event organizer Jim Chesley. "Co-organizer [and former City Councilman] Jeff Greenfield, and Mitzi Taylor with the Parks and Rec Department, have both done a wonderful job."
The vehicles on University Drive will be between Armstrong Street and Sager Avenue. And motorcycles will be displayed in a parking lot close to Armstrong.
From 6 a.m.-4 p.m., University Drive in that area will be closed to traffic.
THE SHOW features a wide range of vehicles, including antique cars from the 1920s and '30s, classic and custom cars, hot rods from the 1940s and '50s, muscle cars like Corvettes and Mustangs, foreign cars such as Bentleys, as well as trucks and motorcycles. There are new and exotic cars, too, and Chesley said there'll be vehicles appealing to all ages.
"We expect at least 350 cars and between 5,000 and 6,000 spectators, depending on the weather," said Chesley. "But the show goes on, rain or shine."
The festivities include food, deejay music, vendor booths and raffles. Most of all, though, the car show raises money for two worthy causes. Entry and parking are free, but tax-deductible donations are accepted – with proceeds mainly benefiting the Northern Virginia Therapeutic Riding Program (www.NVTRP.org) and Inova Hospital System's Life with Cancer (www.lifewithcancer.org).
"We give a minimum of $10,000 to each of these charities," said Chesley. In addition, proceeds also benefit several local charities – the Fairfax County Police Family Trust Fund for survivors of officers killed in the line of duty, plus American Legion Post 177 of Fairfax, The Lamb Center, Fairfax Fire Station 3, Masonic Acacia Lodge of Clifton, and City of Fairfax Police.
"We typically give each of these groups $500," said Chesley. "To date, we've raised over $450,000 for charity since the show's inception in 2000. Everything we raise goes back to the community."
He said 100 percent of the event's earnings go directly to the charities because there are no administrative costs – everyone is a volunteer. And, he added, "Everything Life with Cancer and Therapeutic Riding receive goes to their clients – who receive their services for free. And since they're both local, people can visit each place to see where the money goes."
Even the proceeds from the Clifton Lions Club food sales that day go to the many charities the club supports. Volunteers will also collect donations at Sager Avenue and University Drive and at University Drive and Armstrong Street.
People may register vehicles for the show at www.labordaycarshow.org or outside Fire Station 3 at 4081 University Drive, the day of the event, from 6 a.m.-noon. Information about the two main charities will also be available at the registration desk.
In that area, as well, will be food and beverages for sale. Starting at 6 a.m., the Acacia Lodge will offer breakfast burritos and hot coffee, shifting to iced coffee in the afternoon. Besides that, Lions Club members will be grilling and selling hot dogs, hamburgers and Italian sausage. Rita's Italian Ice will be there, too, and The Inside Scoop ice cream truck will be nearby. And, of course, restaurants in Old Town Fairfax will also be open.
A special, noontime ceremony at the fire station will feature the American Legion Post 177 Color Guard and Fairfax Mayor David Meyer. Opera singer Angela Knight – who sings at The Kennedy Center and at Washington Nationals baseball games – will sing the National Anthem.
New this year – at the event entrance at South Street and University Drive – will be the nonprofit group, Veterans Fishing Adventure, displaying its boat. "It's wheelchair-accessible, and they take veterans out to fish on the Potomac and Occoquan rivers at no cost to the vets," explained Chesley. "They had this boat specially built, and they'll be talking to people about what they do." For more information, go to www.veteransfishingadventure.org.
As for the cars and trucks on display, a total of 26 trophies will be awarded, with judging done in front of the fire station. The participants will vote on the top 20 cars, plus Best of Show. There'll also be Mayor's and Lions' Choice trophies, one each for Best Motorcycle and Best Truck and a Buddy Morrissette Memorial Trophy chosen by his family. "Buddy died in December 2016, but he helped me with this show for years," said Chesley.
THE VEHICLE OWNERS come from West Virginia, Maryland, Pennsylvania and Virginia to show their cars to an appreciative crowd. And the first 250 vehicles will receive dash plaques. In addition, attendees may purchase small replicas of the special, NASCAR, Life with Cancer car that raced in the Soldier 400 in Dover, Del. Made by Lionel, a limited number will be available for $10 at the registration table.
Chesley has been a car aficionado since he was a boy and always liked rebuilding them and going to shows – and he knows many other people do, too. And the growth and success of this Labor Day car show is a testament to its popularity.
"It's hard to believe it's been 20 years," he said. "And how far it's come since the first year – when we had just 25 friends and 25 cars in Clifton get together for an end-of-summer meet-and-greet – to what it is today. We had no idea what it would become or how long it would last. And now, just look at all the good we've been able to do for charity."
Chesley hopes to raise at least $25,000 from this show so he can continue to donate at least $10,000 to the two major charities. "The more we make, the more we can give," he said. "It's really become a family event. Parents remember cars they used to dream about having as kids and are sharing them with their children. And it's just neat to see all these cars and realize that they're still around."
For show and vendor information, contact Jim Chesley at 703-830-2129 or jcchesley@aol.com or visit www.labordaycarshow.org.