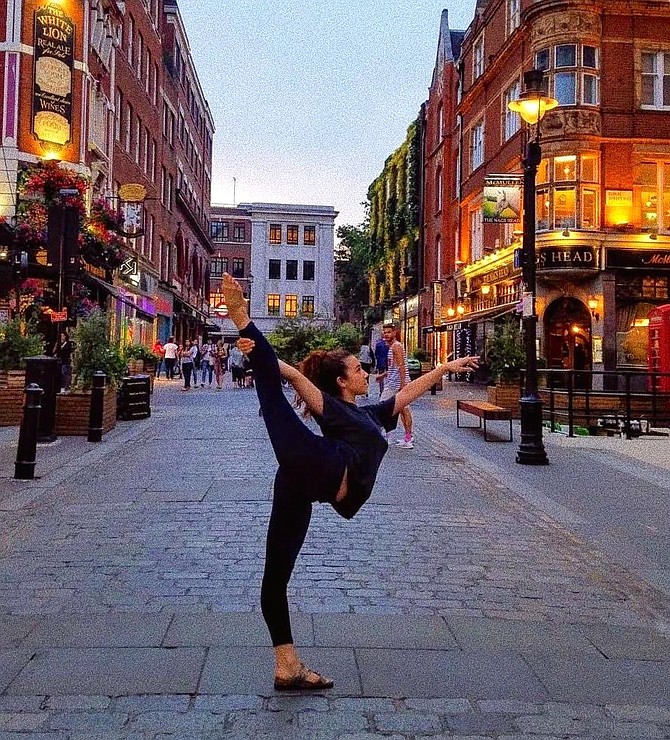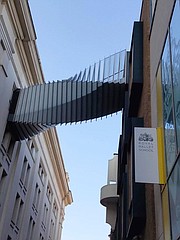 A native of Great Falls, Emilie Gregory, 17, shares her experience about Royal Ballet, where she spent part of her summer improving her technique and artistry.
"Summer break 2019 had barely begun and it was already time to pack all my ballet gear, especially my pointe shoes, and head to London. While most of my friends enjoyed time at the beach, or attended music festivals, or in some cases worked, I spent mine training at the Royal Ballet School," said Emilie, as she explains how Royal Ballet intensive courses are a special opportunity for dancers to experience the highest standards of coaching from faculty members.
The Upper School, designated for dancers aged 16 to 20 years old, is centrally located in Covent Garden, a vibrant section in London's West End where tourists and Londoners can enjoy theater performances or a show at the Opera House. The School is linked by the Bridge of Aspiration, a structure which twists high above the building and provides the dancers of the Royal Ballet School with a direct link to the Royal Opera House. "As you make your way to the School upper floor you're greeted by a statue of Margot Fonteyn, who spent her entire career as a dancer with the Royal Ballet. You're also captivated by the myriad exhibits of Dame Ninette de Valois, the Irish-born dancer, choreographer, teacher, and director who founded The Royal Ballet School," Emilie observed.
With only 48 hours to recover from jetlag, Emilie attended orientation which was the first clue that training was going to be grueling. "While not exactly boot camp, the curriculum included four lessons per day covering technique, versatility, and repertoire from 9:30 to 5:15, including Saturdays," Emilie continued. "Plié, Tendu, Chassé, Relevé," these words spoken in that distinctive English accent continue to resonate in her as she recalls her introduction to the English Ballet technique and her fellow dancers. "Throughout my daily training and as the tempo of counts and corrections increased so did my resolve to perfect my pirouette or arabesque," she said. "Dance teaches you there's always room for artistry improvement and technique refinement which you can only acquire through intensive workshops, masterclasses and intensive training," she concluded.
Emilie is now back in Northern Virginia, where she attends Langley High School as a twelfth grader. Her last year of high school includes meeting graduation requirements, carrying a tight academic schedule along with AP classes, dance training, and filling out college applications.
She maintains her dance regimen as part of CityDance's Pre-Professional Division in North Bethesda five days a week, including rehearsals for its annual winter showcase which begins on Dec. 7. Her participation in CityDance's extensive repertoires and her upcoming appearance with the Great Russian Nutcracker presented by Moscow Ballet at Strathmore on Dec. 15 and 16, keeps her motivated.
Emilie credits dance for instilling in her creativity, open-mindedness, and discipline, all of which are traits that should come in handy as she embarks on a new experience as a soon-to-be college student in the Fall of 2020.