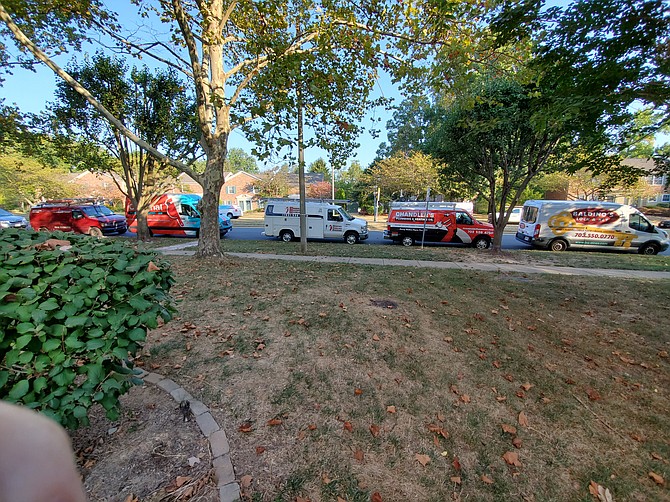 Forrester Boulevard that links Carleigh Parkway and Rolling Road in West Springfield is a busy county street that has restricted parking. The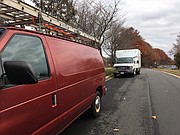 proximity to Rolling Road that links to the Fairfax County Parkway and indirectly to I-495, makes it a convenient parking spot for commercial vans.
These vans may not be parked illegally, but with advertising plastered all over the outside is not in tune with the residential nature of this street. This is where the problems arise, according to resident Marta Valldejuli, a part time realtor who thinks the vans are an eyesore that impacts property values. Her residence looks right out onto Forrester. "We are hostages here," she said, "it looks like an industrial park, nobody can come visit because they take all the parking," she said. These vans could belong to residents of the condominium communities that abut Forrester where there is no parking for that type of vehicle, or even from workers that are enjoying the convenience of this location.
When she and other neighbors went directly to the drivers, there was a little confrontation so Valldejuli went straight to Supervisor Pat Herrity (R-Springfield). Herrity is working with some of the civic associations in the area to see if there is any other parking options, but some have rules against commercial vehicles parked on their streets. "It's a balancing act," he said.
THE COUNTY RULES pertain to some of the larger vehicles, but a regular size van or pickup truck is not restricted because vehicles of this type are also used as personal vehicles. Even taxicabs or limousines have some protection. Section 82-5-7 of the Fairfax County Code prohibits parking of commercial vehicles in residential districts. Vehicles parked in violation are subject to a $100 fine for each violation and may be towed at the owner's expense. As for taxicabs and limousines: one resident of each single-family dwelling unit may park one vehicle licensed and registered in the Commonwealth of Virginia as a taxicab or limousine, according to the county regulation.
Forrester Boulevard is in a "Community Parking District," and vehicles that exceed size and weight limits are not allowed. This is a truck or van more than 21 feet long, more than 8 feet high including appurtenances, width of 102 inches or more, or gross vehicle weight of 12,000 or more pounds.
There are parking restrictions in place for vehicles carrying commercial freight in plain view, or any vehicle with 3 or more axles, the county rules state. The restrictions do not apply to commercial vehicles when temporarily parked while performing work or service. County cannot restrict vehicles based on lettering due to the first amendment, so vehicles can only be defined as commercial based on their height, weight, length and/or width.
"The neighbors are very upset," and some have called the police, Valldejuli said. According to the Fairfax County Police Department, the parking enforcement officer for the West Springfield District reported that six "Commercial Citations" were issued thus far in 2019.
HERRITY is working with the condo and civic association officials in the area but hasn't identified any options at the present time. "We're working with them to try to find an answer," he said.
The Springfield District is not alone in these parking situations, said Herrity. At the Board of Supervisors meetings, they have discussed similar situations in Mason and Sully Districts as well. "It's a problem across the county, we deal with this quite a bit," he said.