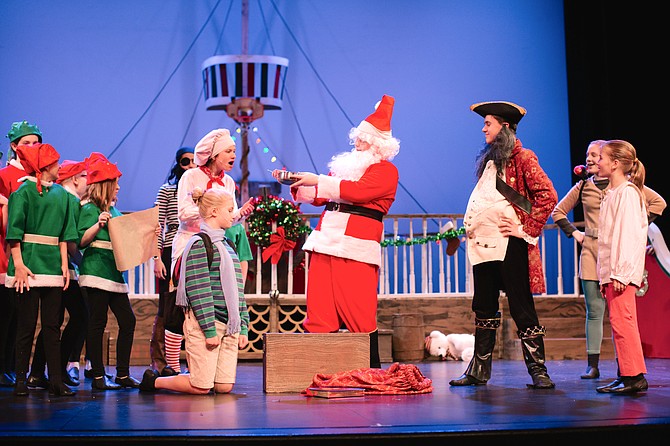 Santa Claus is missing. During the last rehearsal for the annual Christmas Show, the action comes to a screeching halt when the cast discovers that the Santa Claus statue has been stolen. Mrs. Dickens calls in the Clue Club — a group of eccentric students who take mystery and detection into the realm of science. Full of surprises, the Clue Club finds they have successfully fulfilled their duty as "Christmas Scene Investigators" when they discover the true meaning of Christmas.
With a cast of 21 students in the production written by Pat Cook, Encore Stage & Studio is presenting "CSI: Christmas Scene Investigators" from Dec. 6 to 15, 2019. The show that includes the Christmas Carols, "Deck the Halls" and "We Wish You a Merry Christmas," is recommended for ages 4 and older.
According to Director Amanda Nell of Alexandria: "This show would appeal to anybody who enjoys mystery, suspense and a lot of Christmas Cheer…. We thought this show would be great for young audiences because it brings the audience in a very intimate setting to a story that has suspense and curiosity and something everybody in the audience can relate to in some way."
She said spectators will be sitting on three sides – in a thrust formation instead of a one-sided proscenium-style. "So, it's been very exciting to get the kids used to working in an almost 360-capacity where they're aware of their audience being on many sides," she said.
Erik Fagerstrom, 15 of Arlington, plays the dual roles of Scrooge and Clark. "In the beginning of the show, (Scrooge) is extremely mean and addicted to money. He's like a workaholic. He doesn't like Christmas at all. But then with the three ghosts visiting him, he becomes very cheerful. At the end he's very nice and helpful," said the Trinity at Meadowview ninth-grader.
He added: "Clark is a less important character in the show. I feel like he's a bit of a nerd. He's kind of artistic and really into theater. He seems to be one of the more popular kids; he hangs out with the jocks in the school."
Madeline Florio, 13 of Arlington, plays the role of Bing. "Bing is a member of the Clue Club so he's interested in solving mysteries and he's really into the history. There's a part in the show where he quotes books from memory. So, he's a bit of a history nerd. He's the oldest member of the Clue Club and unofficial leader," said the Dorothy Ham Middle School eighth-grader.
She added: "At its heart, (the play) is a Christmas show. So, appreciating the Christmas spirit -- it's a holiday about giving and spending time with your family."
Elena Wear, 11 of Alexandria, plays the role of Mrs. Liles who doesn't like kids. "She enjoys being alone. She's a very independent woman. She doesn't like her job and only does it for the money. She's very secretive," said the George Washington Middle School student.
She added: "When people look at Mrs. Liles, they think she's a mean person. I read the script and wanted to dig deeper and make sure that she wasn't just a mean person but that she had a reason for it."
Brady Knott, 10 of Arlington, plays the role of Mr. Crunge. "He's very strict; he seems heartless -- the students fear him whenever he's around. They talk behind Mr. Crunge's back but I like to think of him as a hawk. He practically has eyes behind his head. He's very observant," said the McKinley Elementary School fifth-grader.
He added: "When I first got this role, I seriously thought I was going to get one of the student roles. I didn't think I was going to get such a big role. I knew from the start that it was going to be a challenge to play him."
Encore Stage & Studio is presenting "CSI: Christmas Scene Investigators" from Dec. 6 to 15, 2019. Show times are Fridays, Dec. 6 and 13, 2019 at 7:30 p.m.; Saturdays, Dec. 7 and 14, 2019 at 11 a.m. and 3 p.m.; and Sundays, Dec. 8 and 15, 2019 at 3 p.m. Tickets are $15/adults; $12/children, students, military and seniors. Visit the website: https://www.encorestageva.org.