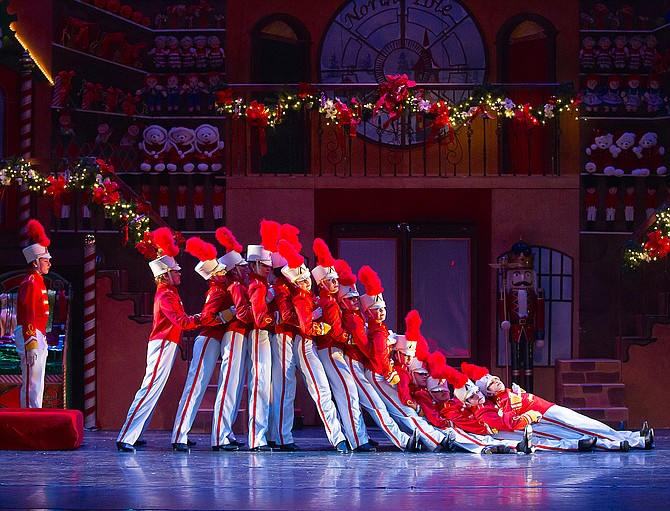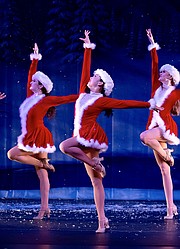 The Christmas season is officially in full swing when Encore Theatrical Arts Project presents its annual, Broadway-style, holiday musical. This year's glittery production, "Finding Santa," will burst upon the stage 12 times between Dec. 13-22 at NOVA's Richard Ernst Theater, 8333 Little River Turnpike in Annandale.
Show times are Fridays at 7:30 p.m.; Saturdays, noon, 4 p.m. and 7:30 p.m.; Sundays, noon and 4 p.m. Tickets range from $19-$26 and may be purchased at www.Encore-tap.org. For group rates, call (703) 222-5511.
"It's Thanksgiving Day in New York City and, after the parade, Santa was scheduled to arrive at the Grand Hotel to meet his adoring fans, but he never arrives," explained Director and Choreographer Raynor van der Merwe. "So the search is on, and it's up to the hotel staff to find him. Meanwhile, they must also entertain a horde of kids who want to give their letters to Santa, telling him what they want for Christmas."
The scenes take place mainly in the hotel lobby and at the North Pole, and the cast of 24 girls and two boys – plus guest actors Jack Stine, Allen McRae and Matt Scarborough – has been rehearsing since August. And van der Merwe says things are really coming together nicely.
"There's a new playwright this year, Lorraine Magee, and seven new company members," said van der Merwe. "So we have a lot of young, new faces and talent, in addition to our seasoned veterans. They've all been working so hard and are wonderful singers and dancers."
THIS SHOW features a slew of new numbers and a couple perennial favorites, such as "Toy Soldiers." Van der Merwe's favorite is "Disappearing Santa," which is among the new ones. "We have 20 musical numbers total," she said. "I try to find different versions of the old favorites everyone enjoys, as well as new songs that'll further the storyline."
She said "Finding Santa" has "all the excitement and anticipation of Christmas that we all have, whether we're old or young. It'll transport people from their everyday life and the stresses of the holiday season. And for two hours, they can live in this fantasy world. The show is upbeat and fun, and the audience will leave the theater singing a song."
Fairfax High sophomore Charley Herwood, 15, portrays Gladys, the hotel's head maid. "She's hardworking and dedicated to her job, but she's also tired and just wants to go home and see her child," said Herwood. "She's friendly and loves Christmastime at the hotel. I like playing her because we do a dance including the maids, so I get to both act and dance my role." An Encore dancer since age 5, she said, "I like expressing myself through dance. And we get to both sing and act at the same time."
Her favorite number is "Elf Jet," showing the elves readying to leave the North Pole for New York. "We're singing, dancing and talking about New York and the parade and how excited we are about it," said Herwood. "As for the show, the audience will like all the costumes and the idea of wanting to find and see Santa. And they'll love the toy soldiers, jack-in-the-box and dolls dances."
Playing a Broadway Rockette named Paige is Faith Chun, a sophomore at Trinity Christian School in Fairfax. "Paige is part of the team looking for Santa, and she and her fellow Rockettes come to the hotel to entertain the kids while Santa's missing," said Chun. "She brings a lot of positive energy and likes being in the spotlight."
She enjoys her role because "Paige is an exciting person who's fun to play." And she particularly likes the song, "Elf Lounge," showing the elves searching in the hotel for Santa with flashlights. "I like the jazz style of the dance," she said. "The audience will also enjoy the Rockette dance and the story's happy ending."
Becca Perron, 16, plays Twinkle, one of the main elves trying to find Santa. "My favorite dance is our brand-new, Rockettes-style number, 'Swinging with Santa'" she said. "We wear sparkly red-and-silver dresses with sequins. And because I'm 5-foot-4, I'm not tall enough to be a Rockette in real life, so this is my opportunity to be part of that world."
Perron said the audience will be surprised at "the level of professionalism coming from such young people, ages 11-18. Our show is original and has all the shine and showstopping numbers audiences have come to love."
Maya Tischler, 17, loves "the freedom to tell a story through movement and the way dancing makes me feel." She plays Sparkle, who's bubbly, outgoing, high-energy and excited by little things. "She's come from the North Pole to New York with Santa for the parade, but now she's helping look for him," said Tischler. "It's a fun role, and I'm outgoing, too, so I can relate to her,"
SHE ESPECIALLY LIKES the "Happy Holidays" number because "it shows our precision kicks and turns, plus stylistic elements, because we're portraying either maids or bellhops during that dance. It's an exciting show to watch, and we have more vocals this year, as well as strong dance numbers. The storyline is fun and, because we have lots of kids onstage, children in the audience will relate to them."
Portraying Joe, a mall Santa full of Christmas spirit, is Vilas Iyer, 15. "He's called to the Grand Hotel to help out with the kids waiting for Santa," said Iyer. "He loves winter and Christmas, so he's bummed out when Santa goes missing." Overall, he said, "The audience will enjoy everything about this show – "the sets, storyline, choreography, actors and songs. It helps you get into the Christmas spirit."