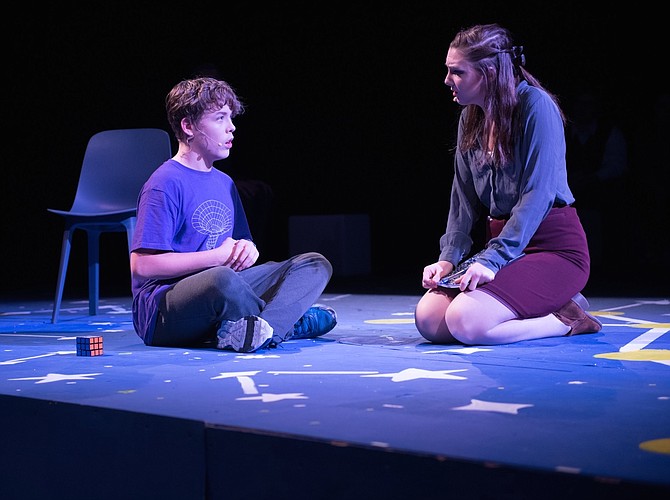 The crowd murmurs with anticipation, waiting for the show to begin. The multiple constellations are seen everywhere on stage, spreading curiosity throughout the audience. The lights start to dim, and the crowd is silent. A spotlight hits center stage, and Robinson Secondary School's production of "The Curious Incident of the Dog in the Night-Time" begins.
The "Curious Incident of the Dog in the Night-Time" was adapted by Simon Stephens and based on the novel with the same name by Mark Haddon. The play premiered in London in 2013 and then moved to Broadway in 2014. The story follows a young boy named Christopher Boone who has an autism spectrum condition, but that doesn't stop him from being a genius in math, and investigating the death of his neighbor's dog.
The cast of "The Curious Incident of the Dog in the Night-Time" works together to create an insight into the life of someone who has an autism spectrum condition. Each cast member works in harmony with one another, to create these dramatic scenes.
The life of Christopher Boone is a difficult role, yet actor Harry MacInnis portrayed him perfectly. MacInnis captured both Christopher's comedic and genius side, as well as Christopher's panicked, autistic side, where every tick and every action seemed very realistic. You could also see his authentic connection with his parents, and his mentor Siobhan, played by Becca Diggs. Diggs added a realistic sense of security for Christopher, and did a fantastic job. MacInnis' connection with his parents Ed and Judy played by Amari Lewis, and Taegan Pratt, was also truthful. Both actors portrayed their characters with grace. You could see what they were going through by their actions and facial expressions.
The ensemble added amazing effects to the play, with every action they took. Mrs. Alexander played by Lily Brintzinghoffer, added perfect comedic timing and never failed to make the audience laugh. In the scenes where Christopher was in the train station, or when he was searching for his book, the ensemble worked together to create chaos. Pieces of furniture were used to generate Christopher's views of his surroundings. Even though the ensemble was onstage during the entire play, they were always in character, and focused on their surroundings.
From the makeup team representing authentic old age makeup, to the costumers incorporating Christopher's favorite and least favorite colors into the people around him, and to the brilliant minds of the scenic and lighting designers, every technical aspect of this show was creative, beautiful, and very well thought out.The concept of red and yellow in the costumes and lighting enhanced Christopher's thoughts and actions throughout the show, and the incorporation of constellations and stars onstage were beautiful and eye-catching.
Robinson Secondary School's production of "The Curious Incident of the Dog in the Night-Time" was brilliant in all ways, and transformed the lives of every audience member.