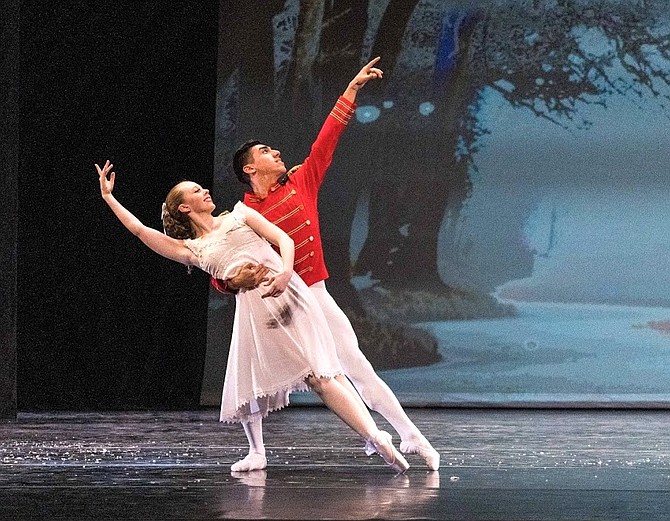 The Fairfax Ballet Company presented "The Nutcracker" on opening night, on Saturday, Nov. 30 at W.T. Woodson High School in Fairfax.
"The Nutcracker" was truly a spectacle for the community to see. It was accompanied with beautiful wintry sets, new colorful snow costumes and a multitude of dancers. The production took the audience through the experiences of Clara and her beloved Nutcracker — including a suspenseful battle with mice, magical wintry scenes, and exotic international dances.
Two main dancers from the local community are featured in the family holiday classic. Nicole Shortle, a sophomore at Oakton High School, danced as Clara, while George Mason University's Carlos Martinez, a sophomore in the dance program, performed as the Nutcracker Prince. Professional guest artists included Richmond Ballet's Matt Szentes as Cavalier, Cody Beaton as the Sugar Plum Fairy, and Philip Smith-Cobbs as the Mouse King, Mechanical Doll, and Arabian Coffee.
Since 1991, the FBC has been performing this production for the surrounding community. "We are continually looking for opportunities to give back and remind the dancers that dance can have a larger impact… and we are always looking for special experiences for our dancers and community members to engage in together," said Andrea Cook, artistic director at FBC.
Upcoming Performances
Coming up, the company, in conjunction with the Fairfax Symphony Orchestra, will present "The Nutcracker" at GMU Center for the Arts Concert Hall at 4 p.m. on both Saturday Dec. 21 and Sunday Dec. 22. For more information, visit http://rsbdance.com