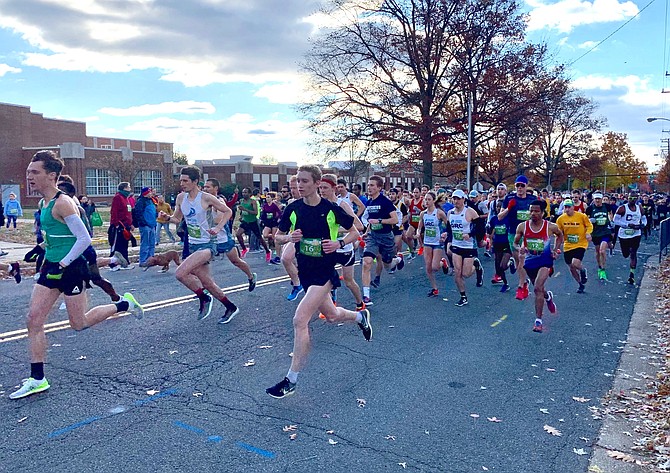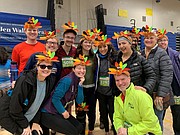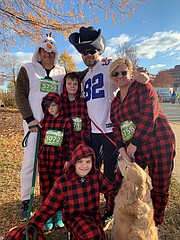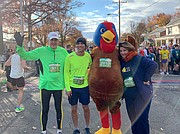 They came, they saw and they conquered. More than 6,000 runners awoke in the pre-dawn hours on Thanksgiving Day to take to the streets of Del Ray in the 44th annual Alexandria Turkey Trot.
"This was a record-breaking year for the Turkey Trot," said Gayle Reuter of the Del Ray Business Association, one of the sponsors of the race. "We had over 6,000 registered runners, raised over $6,000 for ALIVE! and collected over 2,200 pounds of canned goods."
Co-sponsored by the Del Ray Business Association and DC Road Runners Club, the Thanksgiving Day race serves as a fundraiser for Alive! with runners donating canned or non-perishable food items as part of the registration.
The 5-mile USATF-certified course led runners through the streets of Del Ray and Rosemont, beginning and ending at George Washington Middle School.
Jack Taylor, a self-made businessman, philanthropist and owner of Jack Taylor's Alexandria Toyota, served as Grand Marshal. He has been recognized as a Living Legend of Alexandria and is a past recipient of ACT for Alexandria's Legacy of Service.
"There is no one in Alexandria with a bigger heart than Jack Taylor," said Del Ray Business Association President Sue Kovalsky. "On a day that is about giving, we're thrilled to recognize his devotion to the City of Alexandria and his incredible work with Alexandria non-profits."
Earlier this year, T.C. Williams High School dedicated the Jack Taylor College and Career Wing in honor of his 25 years of generous donations to the Scholarship Fund of Alexandria.
"It has been another wonderful year in Del Ray," Reuter added. "We all feel so blessed to have such great businesses with such great support from the community and City."