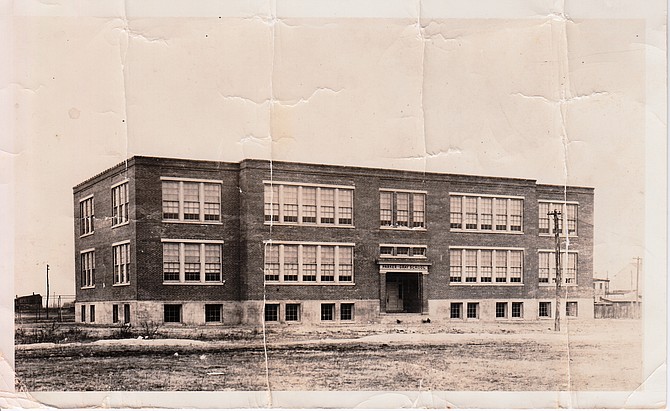 In 1870, there were two public schools for colored children in Alexandria, Virginia: Snowden School was for Colored Boys and the other was Hallowell School for Colored Girls. Those two schools were the only public schools for colored children in Alexandria. The other option was going to a private school, which was beyond the means of many colored people during that period.
By the early 1900s, the two colored schools were overcrowded and in need of repairs. The colored community pressured the school board and the City of Alexandria for a new coed school. In 1918, the City of Alexandria School Board announced that a new coed school will start in September 1920, and its name would be Parker-Gray. Hardly any school equipment or supplies were given by the City of Alexandria, but the colored community was still proud to have their own new school. The colored churches, parents and teachers raised funds to purchase furniture, school supplies, typewriters, curtains and other school necessities before the first day of school.
For 45 years, Parker-Gray educated the colored population in Alexandria, giving them great career opportunities. Those students became doctors, lawyers, judges, a Brigadier General, first colored NBA player, college and high school coaches, Federal and State government workers, first colored chairperson of the Alexandria School Board, teachers, scientists, musicians, military career military and businessmen and businesswomen.
In June 1965, Parker-Gray High School closed its doors and in September 1965 it became an integrated middle school. Most of the students that attended Parker-Gray High School felt the loss of a school and a unique experience. They said it was not just a school but an extended family. They said their teachers cared about their future, and that they were in a safe nurturing environment throughout their high school years. The old Parker-Gray alumni felt the new school lacked the family bond they had with their principal, teachers and friends.
By 1975, several Parker-Gray alumni had a discussion on starting a Parker-Gray Alumni Association. In August 1976, the newly Parker-Gray Alumni Association had their first three day reunion since the closing of Parker-Gray High School. Many former students, teachers and staff attended the events. From that time on, and every other year, Parker-Gray Alumni Association had a reunion to celebrate their Parker-Gray School experience and to award scholarships to selected recipients.
In 2020, the Parker-Gray Alumni Association will be celebrating their 100-year-anniversary of Parker-Gray School. The Alumni Committee is planning a host of events for Aug. 15, 2020 in the Waterford in Springfield at 617 Commerce Street, Springfield, VA 22150. All inquiries for the 100th Anniversary of Parker-Gray School should be made to Mrs. Alice Thompson at 703-549-8178.
Arthur Dawkins from the class of 1952 wrote the "Parker-Gray Victory Song:
Fight Bulldogs, For Pee – Gee
Fight for Our Colors, The Dear Old Blue and White
Rah! Rah! Rah!
Yea, Bulldogs, fight for Pee – Gee
Fight on Zealously,
We Praise Thy Name, Dear Parker-Gray
Fight on to Victory."
The old Bulldogs will again sing their Parker-Gray victory song on August 15, 2020; come out and join them.
Char McCargo Bah is a published author, freelance writer, independent historian, genealogist and a Living Legend of Alexandria. She maintains two blogs, http://www.theotheralexandria.com and http://www.findingthingsforu.com.