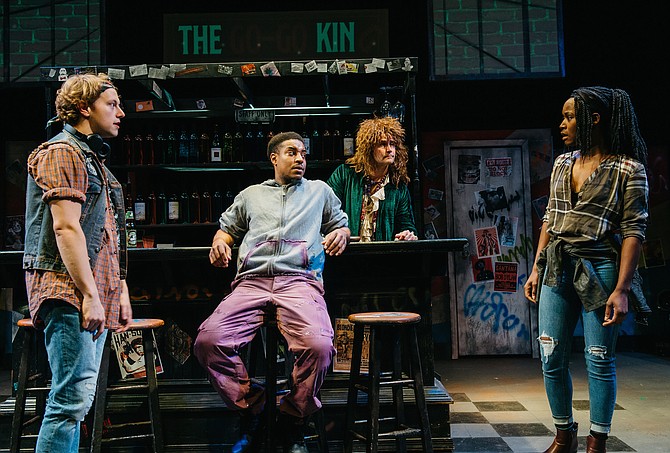 Expressing themselves through big personalities and genuine decency while creating the wondrous illusion of playing invisible guitars, the delightful denizens of "Airness" are out to win over audiences. They succeed with ease.
"Airness" is the enchanting play with tons of rock music riffs at 1st Stage. Written by award-winning playwright Chelsea Marcantel, "Airness" focuses on those seeking a way out from unfulfilling lives through the shared passion of competitive air guitar.
Under Christina A. Coakley's electric direction, "Airness" is a splendidly raucous feast about playing invisible guitars set to recorded music.
The set-up is this; Nina sets out to enter her first air guitar competition. She thinks herself a cinch to win since she plays a great real guitar. Nina discovers she has lots to absorb; even if she would rather not. Through fits-and-starts, Nina becomes friends with a group of air guitar aficionados.
Nina learns that air guitar is more than pretending to play guitar riffs on an invisible guitar mimicking her hero Joan Jett. She has to find her own raw joy and the wildness inside herself. "Everything we need to rock is already inside us," says one of her new friends to Nina.
The live-wire "Airness" cast includes the compelling Billie Krishawn as Nina, Dani Stoller as the self-aware, charged-up "Cannibal Queen," Chris Stezin as a warm-hearted Dad hoping to reconnect with his teen age daughter and the character Shreedy Eddy played by Harrison Smith who blooms into integrity and graciousness.
Gary L. Perkins III is the man with a visionary view that air guitar is the answer to world conflict. A vivid, meant-to-be-unlikeable misogynist character named D Vicious, is portrayed with appropriate attitude by Drew Kopas. Forrest A. "The Fahking Rockr" Hainline IV, a real-life national air guitar champion, is The Announcer.
"Airness" has a down-on-its-heels bar setting that oozes beer stained floors. Matthew J. Keenan is the set designer; with projections from Nitsan Scharf. Sydney Moore fashioned the eye-popping, colorful costumes. Kenny Neal added recorded rock riffs heard throughout the production. Jessica Redish choreographed the never-stop dance and movement routines. The cast is clearly in top-notch athletic condition.

For those who dreamt of mimicking playing a guitar à la Tom Cruise in "Risky Business" or Joe Cocker at Woodstock, or just want to have a fun evening out, take in "Airness." It is an affectionate play about a bevy of lovable, off-center dreamers.
Where and When
1st Stage presents "Airness" at 1524 Spring Hill Road, Tysons. Performances through Dec. 29, 2019. Thursday at 7:30 p.m., Friday at 8 p.m., Saturdays at 2 p.m. and 8 p.m. and Sunday at 2 p.m. Tickets: General Admission $42, $35 (for 65+) and $15 students/military. For tickets call 703-854-1856 or visit www.1stStageTysons.org. Note "Airness" is a regional premiere co-production with Washington, DC's Keegan Theatre. "It allows us to collaborate, share ideas and resources...and new ideas." said Alex Levy, Artistic Director, 1st Stage.